Publication:
La Unión Europea y el arbitraje de inversiones: alcance de la STJUE de 6 de marzo de 2018, Achmea, con especial referencia a la situación de España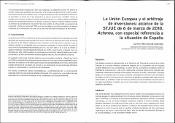 Authors
Advisors (or tutors)
Editors
Abstract
Este trabajo aborda los fundamentos de la sentencia del Tribunal de Justicia de la Unión Europea en el asunto Achmea, totalmente alejados de los propuestos por el Abogado General Whatelet en sus Conclusiones. A partir de ahí, se analiza su incidencia sobre el arbitraje de inversiones en la UE, tanto respecto de la eficacia futura de los Tratados bilaterales de inversiones existentes entre Estados miembros de la UE y entre estos y terceros países, por una parte, como en lo que concierne a la actuación futura de la UE en materia de protección de inversiones, por otra. Asimismo, se plantean sus potenciales repercusiones sobre laudos ya dictados y sobre los arbitrajes de inversiones pendientes, en particular, en los casos que afectan a España, que ya ha comenzado a incorporar esta sentencia en su estrategia de defensa.
This work presents the arguments of the Court of Justice of the European Union in its Achmea judgment, radically different from Advocate General Whatelet's Conclusions in the case. From there, its incidence on international investment arbitration in the EU is analysed considering, on the one hand, bilateral investment treaties of the EU member states between themselves and with third States, and, on the other hand, regarding the future action of the EU on investment protection. In addition, the potential repercussions of this judgment on arbitral awards and on pending arbitral proceedings are also considered regarding, in particular, those affecting Spain, who has already incorporated Achmea to its defence strategy, in the renewable energies sector.
Collections