Publication:
Mapping the Viability, Time, and Cost of Manual Borehole Drilling in Developing Regions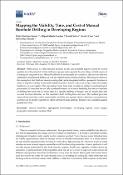 Advisors (or tutors)
Editors
Abstract
While access to water remains an issue in arid and semiarid regions across the world, aquifers have the potential to help millions of people out of poverty by providing a reliable source of drinking and irrigation water. Manual boreholes are increasingly advocated as a safe and cost-effective substitute to mechanized drilling, as well as to traditional excavation methods. This research banks on the assumption that field and remote sensing data can be integrated within a geospatial database in order to map the viability of manual boreholes based on factors such as rock type, water table depth, landforms, or water quality. The approach presents three main novelties in relation to methodological precedents: (1) outcomes are not only expressed in terms of technical feasibility, but also as a function of drilling time and cost; (2) maps refer to a specific drilling technique; and (3) results take into account borehole diameter, as this constrains both drilling time and cost. The method provides univocal outcomes that can be immediately useful for non-experts, donors, planners, or practitioners and that can be readily exported to other catchment-scale settings. Results were validated against geophysical data.
Collections