Publication:
La Coronillaun nuevo yacimiento de huellas de dinosaurio (Enciso, La Rioja, España). Interpretación y problemática de conservación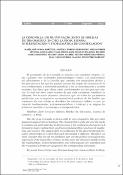 Advisors (or tutors)
Editors
Publisher
Instituto de Estudios Riojanos
Abstract
El yacimiento de La Coronilla se muestra con caracteres propios, como cualquier otro yacimiento paleoicnológico riojano. Las características del afloramiento y de las huellas que contiene son particulares debido a los procesos por los que ha pasado durante las etapas de formación de la roca (sedimentaria y tectonometamórfica) y las de meteorización y erosión recientes. Los datos que ofrece están condicionados por los procesos citados, lo cual nos sirve como muestra de que cada yacimiento estudiado es diferente. Por lo tanto debemos considerar que no todos los yacimientos publicados son la expresión icnotasxonómica perfecta de las huellas que contienen. En este trabajo se describen las estructuras visibles en este yacimiento (sedimentarias, tectonometamórficas e icníticas) y se asignan las icnitas reconocidas a los icnotipos correspondientes.
The site of La Coronilla is shown with its own characters, like any other paleoichnological sites in La Rioja. The characteristics of the site and the tracks it contains are particular due to the processes it has undergone during its rock formation stages (sedimentary and tectonometamorphic) and recent weathering and erosion. The data it offers is conditioned by the aforementioned processes, which helps us to show that each site studied is different. Therefore, we must consider that not all the published sites are the perfect ichnotaxonomic expression of the tracks they contain. In this work, the structures visible in this site (sedimentary, tectonometamorphic and ichnological) are escribed and the recognized ichnites are assigned to the corresponding ichnotypes.
Collections