Publication:
Evaluación y comparación de tecnologías de movilidad IP sobre servidores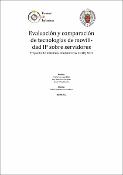 Advisors (or tutors)
Editors
Abstract
Cuando Internet fue diseñada, ésta estaba destinada a conectar entre sí máquinas que se encontraban a muchos kilómetros de distancia. Para ello se desarrollaron distintas tecnologías y protocolos que todavía hoy siguen en funcionamiento. Sin embargo, con la llegada de los dispositivos móviles las necesidades de los usuarios de la red han cambiado y con ellas, los protocolos de internet ven necesario un amoldamiento a los tiempos actuales para dar cobertura a uno de los sectores con más progresión para los próximos años, la movilidad. Visto esto, ya se han comenzado a desarrollar distintas propuestas para que los protocolos de comunicación soporten la movilidad de forma que las nuevas necesidades queden cubiertas. En el presente documento se evaluarán distintas propuestas para la movilidad IP, en el marco del proyecto de fin de carrera de Ingeniería en Informática, cursada por los autores del presente documento en la Universidad Complutense de Madrid. [ABSTRACT] When Internet was created, it was targeted to connect remote machines between them, even if those where separated by thousands of kilometers. To do that, different technologies and protocols where developed and still nowadays these technologies and protocols are in force. However, when mobile devices arrived the needs of the users of the network have changed and these new needs require the old technologies and protocols to be upgraded to match with the modern times in order to give coverage to one of the sectors with the biggest progression in the next years, mobility. Therefore, different proposals have been started to be developed in order to give mobility support to the internet and cover the new needs of users. In the document below, the authors evaluate different proposals to achieve IP mobility framed in their Computer Engineering Carrier Ending Project, taken at the Complutense University of Madrid.
Description
Proyecto de Sistemas Informáticos (Facultad de Informática, Curso 2010-2011)
Collections