Publication:
Spitzer's contribution to the AGN population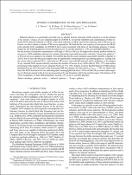 Advisors (or tutors)
Editors
Publisher
American Astronomical Society
Abstract
Infrared selection is a potentially powerful way to identify heavily obscured AGNs missed in even the deepest X-ray surveys. Using a 24 μm-selected sample in GOODS-S, we test the reliability and completeness of three infrared AGN selection methods: (1) IRAC color-color selection, (2) IRAC power-law selection, and (3) IR-excess selection; we also evaluate a number of IR-excess approaches. We find that the vast majority of non-power-law IRAC color-selected AGN candidates in GOODS-S have colors consistent with those of star-forming galaxies. Contamination by star-forming galaxies is most prevalent at low 24 μm flux densities (~100 μJy) and high redshifts (z ~ 2), but the fraction of potential contaminants is still high (~50%) at 500 μJy, the highest flux density probed reliably by our survey. AGN candidates selected via a simple, physically motivated power-law criterion ("power-law galaxies," or PLGs), however, appear to be reliable. We confirm that the IR-excess methods successfully identify a number of AGNs, but we also find that such samples may be significantly contaminated by star-forming galaxies. Adding only the secure Spitzer-selected PLG, color-selected, IR-excess, and radio/IR-selected AGN candidates to the deepest X-ray-selected AGN samples directly increases the number of known X-ray AGNs (84) by 54%-77%, and implies an increase to the number of 24 μm-detected AGNs of 71%-94%. Finally, we show that the fraction of MIR sources dominated by an AGN decreases with decreasing MIR flux density, but only down to f_24 μ m = 300 μJy. Below this limit, the AGN fraction levels out, indicating that a nonnegligible fraction (~10%) of faint 24 μm sources (the majority of which are missed in the X-ray) are powered not by star formation, but by the central engine. The fraction of all AGNs (regardless of their MIR properties) exceeds 15% at all 24 μm flux densities.
Description
© 2008 The American Astronomical Society. All rights reserved. We thank M. Polletta for providing templates, M. Dickinson, and D. Alexander for providing the list of Daddi et al. (2007a, 2007b) sources. We also thank D. Alexander, F. Fiore, M. Lacy, D. Stern, and the anonymous referee for discussions and comments that improved the paper. Finally, we thank Caltech/JPL for support through contract 1255094 to the University of Arizona. P. G. P.-G. acknowledges support from the Spanish Programa Nacional de Astronomía y Astrofísica under grant AYA 2006Y02358 and AYA 2006Y15698YC02Y02, and from the Ramón y Cajal Program financed by the Spanish Government and the European Union.
Citation
Alexander, D. M., Vignali, C., Bauer, F. E., Brandt, W. N., Hornschemeier, A. E., Garmire, G. P., & Schneider, D. P. 2002, AJ, 123, 1149 Alexander, D. M., et al. 2003, AJ, 126, 539 ———. 2008, ApJ, in press (arXiv: 0803.0636 ) Alonso Herrero, A., et al. 2006, ApJ, 640, 167 Barmby, P., et al. 2006, ApJ, 642, 126 Bevington, P. R., & Robinson, D. K. 2003, Data Reduction and Error Analysis for the Physical Sciences (3rd ed.; Boston: McGraw-Hill) Bolzonella, M., Miralles, J.-M., & Pelló, R. 2000, A&A, 363, 476 Bouchet, P., Lequeux, J., Maurice, E., Prevot, L., & Prevot-Burnichon, M. L. 1985, A&A, 149, 330 Brand, K., et al. 2006, ApJ, 644, 143 Brusa, M., et al. 2005, A&A, 432, 69 Buat, V., et al. 2005, ApJ, 619, L51 Calzetti, D., Armus, L., Bohlin, R. C., Kinney, A. L., Koornneef, J., & Storchi-Bergmann, T. 2000, ApJ, 533, 682 Calzetti, D., et al. 2007, ApJ, 666, 870 Caputi, K. I., et al. 2006, ApJ, 637, 727 Cardamone, C. N., et al. 2008, ApJ, 680, 130 Daddi, E., et al. 2007a, ApJ, 670, 156 ———. 2007b, ApJ, 670, 173 Dale, D. A., & Helou, G. 2002, ApJ, 576, 159 Desai, V., et al. 2008, ApJ, 679, 1204 Dey, A., et al. 2008, ApJ, 677, 943 Doherty, M., Bunker, A. J., Ellis, R. S., & McCarthy, P. J. 2005, MNRAS, 361, 525 Donley, J. L., Rieke, G. H., Pérez González, P. G., Rigby, J. R., & Alonso Herrero, A. 2007, ApJ, 660, 167 Donley, J. L., Rieke, G. H., Rigby, J. R., & Pérez González, P. G. 2005, ApJ, 634, 169 Elvis, M., et al. 1994, ApJS, 95, 1 Fazio, G. G., et al. 2004, ApJS, 154, 10 Ferrarese, L., & Merritt, D. 2000, ApJ, 539, L9 Fiore, F., et al. 2008, ApJ, 672, 94 Franceschini, A., et al. 2003, MNRAS, 343, 1181 Gebhardt, K., et al. 2000, ApJ, 539, L13 Genzel, R., et al. 1998, ApJ, 498, 579 Giacconi, R., et al. 2002, ApJS, 139, 369 Giavalisco, M., et al. 2004, ApJ, 600, L93 Gilli, R., Comastri, A., & Hasinger, G. 2007, A&A, 463, 79 Goldader, J. D., Meurer, G., Heckman, T. M., Seibert, M., Sanders, D. B., Calzetti, D., & Steidel, C. C. 2002, ApJ, 568, 651 Grazian, A., et al. 2006, A&A, 449, 951 Hopkins, P. F., Hernquist, L., Cox, T. J., Di Matteo, T., Robertson, B., & Springel, V. 2006, ApJS, 163, 1 Ivezić, Ž., et al. 2002, AJ, 124, 2364 Iwasawa, K., Matt, G., Guainazzi, M., & Fabian, A. C. 2001, MNRAS, 326, 894 Kennicutt, R. C., Jr. 1998, ApJ, 498, 541 Klaas, U., et al. 2001, A&A, 379, 823 Klesman, A., & Sarajedini, V. 2007, ApJ, 665, 225 Lacy, M., Petric, A. O., Sajina, A., Canalizo, G., Storrie-Lombardi, L. J., Armus, L., Fadda, D., & Marleau, F. R. 2007, AJ, 133, 186 Lacy, M., et al. 2004, ApJS, 154, 166 ———. 2005, ApJS, 161, 41 Le Fèvre, O., et al. 2004, A&A, 428, 1043 Lonsdale, C. J., et al. 2003, PASP, 115, 897 Martínez Sansigre, A., Rawlings, S., Lacy, M., Fadda, D., Jarvis, M. J., Marleau, F. R., Simpson, C., & Willott, C. J. 2006, MNRAS, 370, 1479 Marzke, R., et al. 1999, in ASP Conf. Ser. 191, Photometric Redshifts and the Detection of High Redshift Galaxies, ed. R. Waymann et al. (San Francisco: ASP), 148 McGregor, P. J. 1987, ApJ, 312, 195 Mignoli, M., et al. 2005, A&A, 437, 883 Neugebauer, G., Oke, J. B., Becklin, E. E., & Matthews, K. 1979, ApJ, 230, 79 Pérez González, P. G., et al. 2005, ApJ, 630, 82 ———. 2008, ApJ, 675, 234 Persic, M., & Rephaeli, Y. 2002, A&A, 382, 843 Persic, M., Rephaeli, Y., Braito, V., Cappi, M., Della Ceca, R., Franceschini, A., & Gruber, D. E. 2004, A&A, 419, 849 Polletta, M., Weedman, D., Hönig, S., Lonsdale, C. J., Smith, H. E., & Houck, J. 2008, ApJ, 675, 960 Polletta, M., et al. 2007, ApJ, 663, 81 Pozzi, F., et al. 2007, A&A, 468, 603 Prevot, M. L., Lequeux, J., Prevot, L., Maurice, E., & Rocca-Volmerange, B. 1984, A&A, 132, 389 Ptak, A., Heckman, T., Levenson, N. A., Weaver, K., & Strickland, D. 2003, ApJ, 592, 782 Ranalli, P., Comastri, A., & Setti, G. 2003, A&A, 399, 39 Richards, E. A. 2000, ApJ, 533, 611 Richards, G. T., et al. 2003, AJ, 126, 1131 Rieke, G. H., et al. 2004, ApJS, 154, 25 Rigby, J. R., et al. 2004, ApJS, 154, 160 ———. 2008, ApJ, 675, 262 Sajina, A., Lacy, M., & Scott, D. 2005, ApJ, 621, 256 Sanders, D. B., Mazzarella, J. M., Kim, D.-C., Surace, J. A., & Soifer, B. T. 2003, AJ, 126, 1607 Silva, L., Granato, G. L., Bressan, A., & Danese, L. 1998, ApJ, 509, 103 Steffen, A. T., Brandt, W. N., Alexander, D. M., Gallagher, S. C., & Lehmer, B. D. 2007, ApJ, 667, L25 Stern, D., et al. 2005, ApJ, 631, 163 Szokoly, G. P., et al. 2004, ApJS, 155, 271 Teng, S. H., Wilson, A. S., Veilleux, S., Young, A. J., Sanders, D. B., & Nagar, N. M. 2005, ApJ, 633, 664 Tozzi, P., et al. 2006, A&A, 451, 457 Treister, E., et al. 2006, ApJ, 640, 603 Vandame, B., et al. 2001, preprint (astro-ph/0102300) Vanzella, E., et al. 2006, A&A, 454, 423 Vijh, U. P., Witt, A. N., & Gordon, K. D. 2003, ApJ, 587, 533 White, N. E., Swank, J. H., & Holt, S. S. 1983, ApJ, 270, 711 Wolf, C., et al. 2004, A&A, 421, 913 Yan, L., et al. 2007, ApJ, 658, 778
Collections