Publication:
La presencia y disfrute de la amistad en Facebook según el estudio de la misma en la obra de Pedro Laín Entralgo, Sobre la amistad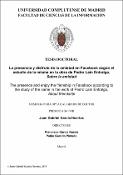 Files
Authors
Advisors (or tutors)
Editors
Publisher
Universidad Complutense de Madrid
Abstract
La presente investigación trata el análisis profundo del concepto de la amistad bajo la visión de la obra de Laín Entralgo "Sobre la amistad". Con ella se ha podido profundizar sobre los items necesarios para poder vivir una amistad verdadera y, mediante un cuestionario, buscar su presencia en las redes sociales, concretamente en Facebook. Facebook se presenta como una red social digital que habla de amigos en sus contactos y por ello hemos querido investigar en profundidad si realmente es posible vivir la amistad con esta red social como medio. Analizamos las cuatro dimensiones en las que puede estar presente de una u otra manera la amistad según la obra de Laín Entralgo y sometemos dichas dimensiones a través de sus items a las variables del sexo y de la edad para determinar si existen cambios relevantes en los resultados. Saber que hay de realidad sobre la amistad en Facebook nos permitirá situar en un plano más seguro el tratamiento que veremos de la información, nos hará tomar conciencia de qué es lo que vivimos y las posibilidades que realmente aporta la red. Tomar conciencia del lugar exacto que ocupa la amistad en este medio, nos ayudará a mejorar su uso y abrirá nuevas líneas de investigación que permitirán profundizar en cada uno de los items analizados.
The present investigation treats the deep analysis of the concept of the friendship under the vision of the work of Laín Entralgo "On the friendship". With it, it has been possible to deepen into the necessary items to be able to live a true friendship and, through a questionnaire, look for its presence in social networks, specifically in Facebook. Facebook is presented as a digital social network that speaks of friends in their contacts and therefore we wanted to investigate in depth whether it is really possible to live the friendship with this social network as a means. We analyze the four dimensions in which the friendship according to the work of Laín Entralgo can be present in one way or another and we submit these dimensions through their items to the variables of sex and age to determine if there are relevant changes in the results. Knowing that there is reality about friendship on Facebook will allow us to situate our treatment of information in a more secure way, it will make us aware of what we live and the possibilities that the network provides. Be aware of the exact place that friendship occupies in this medium, will help us to improve its use and will open new lines of research that will allow us to deepen in each of the items analyzed.
Description
Tesis inédita de la Universidad Complutense de Madrid, Facultad de Ciencias de la Información, Departamento de Comunicación Audiovisual, leída el 18/10/2019
Collections