Publication:
Intracellular signaling pathways involved in L-DOPA-induced dyskinesias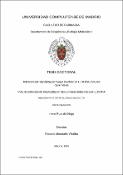 Files
Authors
Advisors (or tutors)
Editors
Publisher
Universidad Complutense de Madrid
Abstract
La enfermedad de Parkinson es una de las enfermedades neurodegenerativas más prevalentes en la actualidad. Se caracteriza por la muerte de las neuronas dopaminérgicas de la substantia nigra pars compacta, lo que conlleva la subsecuente depleción dopaminérgica a nivel estriatal. La L-DOPA constituye desde su descubrimiento a principio de la década de los sesenta el tratamiento de elección en la enfermedad de Parkinson, ya que es la terapia no invasiva más eficaz para combatir los síntomas de esta enfermedad. A pesar de sus considerables beneficios, la administración crónica de L-DOPA junto con el avance de la enfermedad provocan la aparición de movimientos involuntarios anormales conocidos como disquinesias en la casi totalidad de los pacientes con más de 10 años de tratamiento. La disquinesia interfiere con los mecanismos fisiológicos de la actividad motora y, por tanto, constituye el desafío más importante en la terapia antiparkinsoniana. Sin embargo, se desconocen en gran medida los mecanismos moleculares involucrados en las mismas. Trabajos previos de nuestro laboratorio demostraron que las disquinesias inducidas por L-DOPA están causalmente relacionadas con la hiperestimulación de los receptores dopaminérgicos D1 (D1R). La L-DOPA activa la vía de señalización del AMPc a través de la proteína Gαolf, la cual acopla los D1R a la enzima adenilato ciclasa. Basándonos en trabajos anteriores que demuestran que los niveles de la proteína Goαlf son uno de los factores limitantes para la señalización mediada por el D1R, nosotros proponemos que la regulación de Gαolf puede ser uno de los elementos implicados en la el mecanismo de hiperestimulación de D1R...
Parkinson's disease (PD) is one of the most common neurodegenerative disorders nowadays. This progressive, chronic and age-related pathology is characterized by a dramatic depletion of dopamine in the striatum due to the loss of dopaminergic neurons of the substantia nigra pars compacta. Despite extensive investigation aimed at finding new therapeutic approaches, the dopamine precursor molecule L-DOPA remains the most effective and widely used non-invasive therapy for PD. However, chronic treatment and disease progression cause the appearance of abnormal involuntary movements known as dyskinesias in the vast majority of patients. L-DOPA-induced dyskinesia interferes significantly with normal motor activity and persists unless L-DOPA dosages are reduced below therapeutic levels. Thus, controlling dyskinetic symptoms is one of the major challenges in PD therapy. Despite the progress made in recent years, the intracellular signaling mechanisms implicated in L-DOPA-induced dyskinesias are not fully established. Previous works from our laboratory demonstrated that L-DOPA-induced dyskinesia is causally linked with hyperstimulation of dopamine D1 receptors (D1R) located on direct pathway medium spiny neurons. L-DOPA activates the cAMP-dependent signalling cascade through the olfactory type G-protein α subunit (Gαolf), which couples D1R to adenylyl cyclase. Since Gαolf levels are a limiting factor for receptor signaling, we propose that Gαolf dysregulation could be a plausible mechanism for the D1R hypersensitivity...
Description
Tesis inédita de la Universidad Complutense de Madrid, Facultad de Farmacia, Departamento de Bioquímica y Biología Molecular II, leída el 27/06/2014
Collections