Publication:
El programa "Comunidades Solidarias" en el marco del régimen de bienestar salvadoreño: dimensiones de desigualdad de género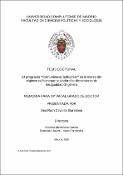 Files
Authors
Advisors (or tutors)
Editors
Publisher
Universidad Complutense de Madrid
Abstract
En esta investigación se analiza el programa "Comunidades Solidarias", implementado en El Salvador desde el año 2005. Se evalúa en el marco del régimen de bienestar2 salvadoreño y desde una perspectiva analítica de igualdad de género.La motivación surge de verificar el rol central que desempeñan las mujeres en el marco de los Programas de Transferencia Monetaria Condicionada. Se trata de programas orientados al combate de la pobreza que han sido implementados a lo largo de diversos países, como resultado de la instauración de la Nueva Política Social. En consecuencia derivan del enfoque de "Manejo Social del Riesgo" en donde la pobreza es entendida como un problema de inversión en capital humano y consecuentemente, la lógica de los programas se orienta a reducir los riesgos sociales en el corto plazo-asignando una transferencia monetaria para ayudar a cubrir el coste de oportunidad que implica invertir en activos como la educación y la salud- pero fundamentalmente en el largo plazo- propiciando la acumulación de capital-. Es decir, básicamente se esperaría que con una mejor educación, las personas eventualmente logren incorporarse en empleos que les permitan superar su condición de pobreza (León, 2008)...
This research analyzes the "Comunidades Solidarias" program, which has been implemented in El Salvador since 2005. The program is evaluated using the Salvadorian welfare regime framework1 taking into account the gender perspective.The motivation for this study is to verify the central role that women play in the framework of Conditional cash transfers programs. These programs are aimed at combating poverty and have been implemented in different countries, as a result of the establishment of the New Social Policy. Consequently, they derive from "Social Risk Management" approach, where poverty is understood as an investment problem in human capital. As a result, the logic of the programs is aimed at reducing social risks on a short term by assigning a monetary transfer to help cover the opportunity cost involved in investing in assets such as education and health; however, fundamentally it favors the accumulation of capital in the long run. It means that with better education, the people will eventually get employed with better jobs, which will let them to overcome poverty (León, 2008)...
Description
Tesis de la Universidad Complutense de Madrid, Facultad de Ciencias Políticas y Sociología, leída el 18-09-2017
Collections