Publication:
La dimensión profesional de la Arqueología. Retos y oportunidades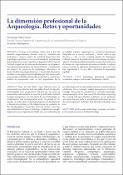 Authors
Advisors (or tutors)
Editors
Publisher
Grupo Español de Conservación del International Institute for Conservation, Asociación de Conservadores Restauradores de España
Abstract
A lo largo de los últimos treinta años se han ido abriendo progresivamente distintas áreas de especialización profesional y nuevos campos de actividad laboral para los arqueólogos españoles. La creciente demanda de profesionales para trabajar en el campo específico de la gestión del Patrimonio Cultural, el papel que hoy desempeñan las nuevas tecnologías en los trabajos arqueométricos y de documentación, el crecimiento del número de proyectos de arqueología subacuática, el desarrollo de la arqueología histórica o la integración de nuestros titulados en los equipos interdisciplinares que intervienen en la restauración y rehabilitación de ediicios históricos, constituyen ámbitos de oportunidad cada vez más importantes. En la actualidad, nuestros arqueólogos se encuentran plenamente integrados en el cuerpo intelectual y técnico sobre el que descansa la cada vez más compleja gestión del Patrimonio Cultural. Aumentar la producción de conocimiento científico, reforzar la función social de la disciplina, mejorar las condiciones de formación y especialización de nuestros titulados y explorar nuevos caminos de aplicación profesional son ahora los retos más importantes a los que debe enfrentarse la arqueología española.
Over the last thirty years, diferent areas of professional specialization and new ields of work for Spanish archaeologists have progressively opened up. The growing demand for professionals to work in the speciic ield of cultural heritage management, the role played by new technologies in archaeometric and documentation work, the growth of the number of underwater archeology projects, the development of historical archeology or the integration of our graduates in the interdisciplinary teams that intervene in the restoration and rehabilitation of historic buildings, constitute increasingly important areas of opportunity. Right now, our archaeologists are fully integrated into the intellectual and technical body on which rests the increasingly complex management of Cultural Heritage. Increasing the production of scientiic knowledge, strengthening the social function of the discipline, improving the training and specialization conditions of our graduates and exploring new paths of professional application are now the most important challenges that Spanish archeology must face.
Collections