Publication:
Migraciones y cambio demográfico en la Comunidad de Madrid (1996-2018)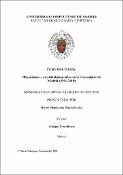 Files
Authors
Advisors (or tutors)
Editors
Publisher
Universidad Complutense de Madrid
Abstract
Existen numerosos estudios sobre migraciones en la Comunidad de Madrid, pero en su mayor parte se centran en el estudio de uno de los tres grandes flujos migratorios (migraciones exteriores o internacionales, interprovinciales e intraprovinciales o residenciales). En esta Tesis se realiza por primera vez un análisis exhaustivo de los tres grandes flujos, lo que permite establecer con claridad las características del modelo migratorio madrileño. Además, a diferencia del resto de publicaciones sobre migraciones en la Comunidad de Madrid, se aborda el análisis de los diferentes subflujos migratorios que se han dividido en grandes bloques en función del origen y del destino, diferenciándose por tanto la migración internacional y nacional (inter e intraprovincial), y destacándose la gran diversidad de flujos existentes en la región y la importancia y características de cada uno de ellos. La Tesis plantea la clara relación de los flujos migratorios en su intensidad y características internas, con los cambios en la situación económica lo que ha dado lugar a un diseño original del trabajo de investigación. Se han distinguido tres grandes etapas en consonancia con los años de fuerte crecimiento económico previos a la crisis (1996-2007), el período de la crisis (2008-2013) y el más reciente con una incipiente recuperación económica (2014-2018). La identificación de estas etapas posibilita analizar los cambios temporales en el modelo migratorio de la Comunidad de Madrid y sus diferentes flujos en relación con aquellas variables e indicadores que caracterizan la fluctuante coyuntura económica...
There are numerous studies on migration in the Community of Madrid, but for the most part they focus on the study of one of the three major migration flows (international, inter-provincial and intraprovincialor residential mobility). In this Thesis, a comprehensive analysis of the three major flows is made for the first time, which makes it possible to clearly establish the characteristics of the Madrid migratory model. Furthermore, unlike the rest of the publications on migration in the Community of Madrid, the analysis of the different sub-flows that make up international and domestic migration (inter and intraprovincial) is addressed, highlighting the great diversity of flows existing in the region and the importance and characteristics of each one of them. The Thesis raises the clear relationship of migratory flows in their intensity and internal characteristics, with changes in the economic situation. This has led to an original design of the research work. Three major stages have been distinguished taking place alongside with the years of strong economic growth (1996-2007) prior to the crisis, the period of the crisis (2008-2013) and the most recent one withan incipient economic recovery (2014-2018). The identification of these stages enables the temporal changes in the Madrid migration model and its different flows in relation to those variables and indicators that define the changing economic situation...
Description
Tesis inédita de la Universidad Complutense de Madrid, Facultad de Geografía e Historia, leída el 08-10-2021
Collections