Publication:
Three essays on firm financing : the supply side of capital, issuance activity and real behaviour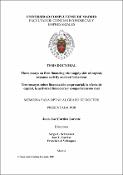 Files
Authors
Advisors (or tutors)
Editors
Publisher
Universidad Complutense de Madrid
Abstract
This thesis is composed of three research articles investigating changes in firm financing and real behavior associated to changes in the supply of capital in global and domestic financial markets. For identification, the studies focus on events that implied important changes in the supply side of capital that were plausibly exogenous to the firms. The empirical designs are founded on the simultaneous consideration of firms' financial choices in different financial markets and the analysis of the effects of those choices on the balance-sheet statements of the issuers. The first chapter studies the causes behind the acceleration in outstanding corporate debt in emerging economies since the Global Financial Crisis of 2008-09. The chapter shows evidence consistent with an expansion in the supply of capital through bond markets since the crisis, which prompted an important increase in corporate debt issuance activity, financial risks, and changes in debt composition. Through the study of two quasi-experiments, the second chapter provides plausibly causal evidence of the effects of exogenous changes in the investor base on firm financing and investment policies. The two events find economically large effects and are associated to the impact of international benchmark indexing and a series of capital market reforms in China that started in 2013...
Esta tesis está compuesta por tres artículos que investigan cambios en el comportamiento financiero y real de las empresas asociados a cambios en la oferta de capital en mercados globales y domésticos. Para encontrar identificación, los estudios analizan eventos que implicaron cambios importantes en la oferta de capital que fueron plausiblemente exógenos para las empresas. Los diseños empíricos están fundados en el estudio simultáneo de las decisiones de financiamiento de las empresas en diferentes mercados financieros, así como en los efectos de esas decisiones en sus balanzas anuales. El primer capítulo estudia las causas detrás de la aceleración en deuda empresarial en economías emergentes después de la Crisis Financiera Global de 2008-09. El capítulo encuentra evidencia consistente con una expansión en la oferta de capital dada a través de mercados de bonos desde la crisis, lo que desencadenó un incremento importante en la emisión de deuda por las empresas, un incremento en los riesgos financieros, y cambios importantes en la composición de la deuda empresarial. A través del estudio de dos cuasiexperimentos, el segundo capítulo provee evidencia, plausiblemente causal, sobre los efectos asociados a cambios exógenos en la base inversora sobre las políticas financieras y reales de las empresas. Los dos eventos encuentran efectos económicamente grandes, estadísticamente significativos y están asociados al impacto de los índices de benchmarking internacional y a una serie de reformas en los mercados de capitales en China que ocurrieron en 2013...
Description
Tesis inédita de la Universidad Complutense de Madrid, Facultad de Ciencias Económicas y Empresariales, leída el 01-07-2021
Collections