Publication:
Relación entre alcoholemia, etilglucurónido y hepatopatía en cadáveres del Instituto Anatómico Forense de Madrid y su utilidad forense en la valoración del consumo de alcohol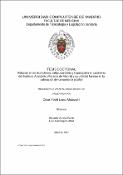 Files
Editors
Publisher
Universidad Complutense de Madrid
Abstract
El consumo abusivo de alcohol (etanol), por la ingesta de bebidas alcohólicas, es en la actualidad generador de riesgos en el ámbito social, familiar, clínico, psicopatológico y para el tráfico vial. El Management of Substance Abuse Team del Departamento de Salud Mental y Sustancias de Abuso de la Organización Mundial de la Salud (OMS), identifica al consumo abusivo de alcohol como objetivo para la Salud Pública y lo denomina "the harmful use of alcohol" o "uso perjudicial o nocivo del alcohol". En el 2011, la OMS publicó "The Global status report on alcohol and health", donde se confirmó que el "uso perjudicial o nocivo del alcohol" es factor generador de: enfermedades, violencia, lesiones y muerte. Por otro lado, se considera que el consumo abusivo de etanol, es el consumo excesivo del alcohol proveniente de una bebida alcohólica reglamentada. Todas las acciones de riesgo que se cometen bajo la influencia del etanol, tienen gran trascendencia en el ámbito médico legal y forense ya que producen respuestas jurídicas específicas en los distintos campos del Derecho, como la imputabilidad penal, la capacidad civil, o la guarda y custodia de posibles hijos. Efectivamente, los riesgos por el consumo de alcohol pueden incrementarse todavía más, siendo importante diferenciar al bebedor habitual del bebedor excesivo para tomar medidas preventivas frente a diferentes situaciones producidas por la ingesta de las bebidas alcohólicas. Durante el consumo excesivo y posteriormente crónico, se producen cambios fisiológicos en el bebedor, los cuales pueden finalizar en una dependencia alcohólica (alcoholismo). Esta tiene una trascendencia legal muy importante hasta el grado de involucrar al ambiente y la sociedad que rodean al individuo dependiente. Así, es importante la determinación de un protocolo para diagnosticar el consumo de etanol y así poder identificar al individuo con consumo patológico, previniendo acciones que sean contarías a las leyes y normativas jurídicas. Un procedimiento correcto para diagnosticar el consumo de etanol, sería la cuantificación de marcadores de su consumo agudo y crónico, relacionando estos resultados con el diagnóstico histopatológico e incluir el uso de muestras que permitan realizar una valoración retrospectiva, determinando el consumo de etanol a lo largo de un período de tiempo determinado...
Relationship between alcohol blood level, ethyl glucuronide and liver disease in cadavers of the Instituto Anatómico Forense de Madrid, and its forensic utility in the assessment of alcohol consumption. Nowadays, the alcohol (ethanol, EtOH) abuse, by ingestion of alcoholic beverages, is a social, familial, clinical, psychopathological, and traffic serious risk generator. The Management of Substance Abuse Team from the Mental Health and Substance Abuse Department of the World Health Organization (WHO) identifies the abuse of alcohol as a target for public health and calls it "the harmful use of alcohol". In 2011, the WHO published "The Global status report on alcohol and health ", which confirmed that the "the harmful use of alcohol" is a disease, violence, injury and death causing factor. Furthermore, it is considered that the abusive ethanol ingesting is related with the excessive consumption of regulated alcoholic beverage. All of the dangerous actions committed under the ethanol consumption influence have a deep significance in the legal and forensic medical field, since it produces specific legal responses in different areas of the Law, such as criminal responsibility, civil capacity or the children custody. Indeed, the dangers of alcohol ingestion could be intensified by other situations, being important to distinguish an acute from a chronic intake, in order to take preventive measures when facing situations that arise from the excessive alcohol consumption. During the acute, and then chronical alcohol consumption, there are several physiological changes in the ethanol consumer, which can led to an alcohol dependence (alcoholism). Such circumstance has a significant legal importance, which several times may also affect the drinker environment and society. Accordingly to this, it is essential to define a protocol for the diagnosis of the EtOH ingesting in order to identify the kind of drinker with the pathological consumption. Trying to prevent actions that could be against stablished laws and legal regulations...
Description
Tesis inédita de la Universidad Complutense de Madrid, Facultad de Medicina, Departamento de Toxicología y Legislación Sanitaria, leída el 08-02-2016
Collections