Publication:
Óxidos mixtos de manganeso en elevado estado de oxidación: estrategias de síntesis, análisis estructural y composicional y comportamiento funcional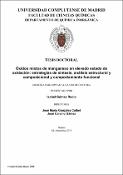 Files
Authors
Editors
Publisher
UNiversidad Complutense de Madrid
Abstract
Los óxidos de manganeso han despertado un especial interés debido a la elevada flexibilidad estructural que presentan y por su facilidad para estabilizar distintos estados de oxidación, en diferentes entornos de coordinación. Estas características, junto con su elevada abundancia, bajo coste y baja toxicidad, hacen que se perfilen como candidatos ideales para fabricar dispositivos con diversas aplicaciones de interés tecnológico. La posibilidad de manipular la subred aniónica modificando el estado de oxidación del manganeso por medio de las llamadas técnicas de ingeniería de oxígeno ha dado lugar a diferentes materiales funcionales basados en propiedades tan diferentes como las catalíticas o las magnéticas. La irrupción de las nuevas nanotecnologías ha dirigido las investigaciones a la obtención de estos óxidos funcionales en la escala nanométrica, de manera que algunas de sus propiedades pueden verse reforzadas, como las relacionadas, por una parte, con la catálisis y la electrocatálisis, y por otra, con las propiedades magnéticas y de transporte, que tienen aplicaciones capitales en áreas tan diferentes como el medio ambiente y la espintrónica. Para dar respuesta a estas necesidades hace falta desarrollar y poner a punto nuevos métodos de síntesis que permitan la obtención reproducible de nanomateriales monofásicos y de composición controlada, de forma que la elección cuidadosa de las condiciones de síntesis permita la variación en la composición, manteniendo el tipo estructural y dando lugar a la posible modulación de las propiedades. De acuerdo con estas premisas, nuestro objetivo se ha dirigido a la optimización de métodos de síntesis en vía húmeda, para la obtención de óxidos mixtos de manganeso con reducido tamaño de partícula, así como a su profunda caracterización composicional y estructural, con objeto de conocer la respuesta a nivel atómico para intentar establecer la relación entre la estructura y su comportamiento funcional. Esto es posible debido a la información que proporcionan las técnicas avanzadas de microscopia electrónica mediante el uso de correctores de aberración y espectrómetros de última generación que permiten obtener, al mismo tiempo, imágenes estructurales y espectroscópicas con resolución sub-Angstrom...
Manganese oxides have awakened a special interest as a consequence of their high structural flexibility related to their ability of establishing different oxidation states, in various coordination environments. These features in conjunction with their high abundance, low cost and low toxicity, make them ideal candidates to manufacture devices with diverse applications of technological interest. The possibility to handle the anionic lattice by modifying manganese oxidation state, using the so-called oxygen engineering techniques, have given rise to different functional materials based on so different properties such as catalytic and magnetic. The emergence of new nanotechnologies had led the current research to obtain these functional oxides at the nanometric scale, so some of these properties can be reinforced, such as, on one hand, catalysis and electrocatalysis, and on the other, magnetic and transport properties, which have applications in areas as different as environment and spintronics. In order to satisfy these needs, it is necessary to develop and tune new synthesis methods up which allow the production, in a reproducible way, of monophasic nanomaterials of controlled composition and structure, giving rise to the possible modulation of their properties. According to these premises, our objective follows tuning wet synthesis methods up, to obtain mixed manganese oxides with reduced particle size, as well as their deep compositional and structural characterization at atomic level to establish the relationship between their structure and functional behavior. This is possible due to the information provided by advanced aberration-corrected electron microscopy techniques and last generation spectrometers that allow obtaining, at the same time, structural and spectroscopic images with sub-Angstrom resolution...
Description
Tesis de la Universidad Complutense de Madrid, Facultad de Ciencias Químicas, Departamento de Química Inorgánica, leída el 12/12/2018
Collections