Publication:
Science, technology and innovation policies looking backwards, forwards and beyond: Developmental challenges and opportunities for Ibero-America in the era of COVID -19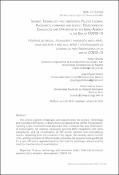 Advisors (or tutors)
Editors
Publisher
Universidad de Huelva, Publicaciones
Abstract
This article explores challenges and opportunities for science, technology and innovation (STI) policy in Ibero-America related to the COVID-19 pandemic, claiming a new multidirectional approach that combines two key dimensions: (i) transversality, for national innovation systems (NIS) integration with other subsystems; and (ii) coordination of STI across national and international spaces. Departing from the situation of the region, the sanitary and economic crisis, and the evolution of NIS and policy rationale, we propose some guidelines for a new STI policy agenda based on the region's challenges ahead and the need for mechanisms of coordination.
Este artículo explora los desafíos y oportunidades para la política de ciencia, tecnología e innovación (CTI) en Iberoamérica en relación con la pandemia COVID-19, reivindicando un nuevo enfoque multidireccional que combina dos dimensiones clave: i) la transversalidad, para la integración de los sistemas nacionales de innovación (SNI) con otros subsistemas; y ii) la coordinación de la CTI en los espacios nacionales e internacionales. A partir de la situación de la región, la crisis sanitaria y económica, la evolución de los SNI, y la lógica de las políticas, proponemos algunas pautas para una nueva agenda de política de CTI basada en los desafíos de la región en el futuro y en la necesidad de mecanismos de coordinación.
Collections