Publication:
Degree of coherence for vectorial electromagnetic fields as the distance between correlation matrices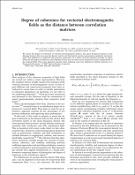 Authors
Advisors (or tutors)
Editors
Publisher
Optical Society of America
Abstract
We assess the degree of coherence of vectorial electromagnetic fields in the space-frequency domain as the distance between the cross-spectral density matrix and the identity matrix representing completely incoherent light. This definition is compared with previous approaches. It is shown that this distance provides an upper bound for the degree of coherence and visibility for any pair of scalar waves obtained by linear combinations of the original fields. This same approach emerges when applying a previous definition of global coherence to a Young interferometer.
Description
©2007 Optical Society of America. This work has been supported by project FIS2004-01814 of the Spanish Dirección General de Investigación del Ministerio de Educación y Ciencia.
Collections