Publication:
Proyección actual de la Pedagogía Amigoniana. La resiliencia como marco de acción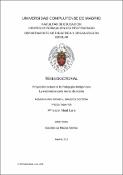 Files
Authors
Advisors (or tutors)
Editors
Publisher
Universidad Complutense de Madrid
Abstract
La Pedagogía Amigoniana hace referencia a Luis Amigó, quien es la persona más valiosa de esta Pedagogía, en cuanto que ideó y puso en práctica un procedimiento de intervención educativa para niños y jóvenes con graves riesgos de inadaptación social y con problemas de adaptación al sistema escolar reglado, para ofrecer a estos alumnos una posibilidad de seguir siendo educados para participar de manera activa en la sociedad. La personalidad del Padre Luis sigue viva todavía en las gentes de Segorbe y Solsona: "Sabía aproximarse a todas las personas y ser asequible…" (Abad, A. 1964). El problema que se plantea en este trabajo de investigación es que en la actualidad hay un considerable número de niños y jóvenes con problemas de adaptación social o grave riesgo. Por lo que es necesario descubrir alternativas, como la Pedagogía Amigoniana, para aplicarlas, adaptada a cada contexto, con el fin de disminuir el riesgo de exclusión social y prevenir la delincuencia promoviendo en estos alumnos actitudes resilientes, como las que estimula la Pedagogía Amigoniana...
The Amigonian Pedagogy refers to Luis Amigó, who is the most valuable person of this pedagogy, as that he devised and implemented a process of educational intervention for children and youth with, serious risks of social maladjustment, problems adapting to the regulated school system, and to offer them a possibility, and a chance of continuance in their education. The personality of Father Luis continues to be alive, still, to this date, among the people of Segorbe and Solsona: "He knew how to be proximate to all people and let himself be approachable…" (Abad, A. 1964). The problem that arises, in this research project is that: as of today there is a considerable number of children and youth in high risk, with social maladjustment problems. Therefor it is necessary to search for alternatives, such as the Amigonian Pedagogy, to be applied and adapted to each context, with the purpose of diminishing the risk on these students. Be able to promote in them resilient attitudes, like the one proposed and stimulated in the Amigonian Pedagogy...
Description
Tesis inédita de la Universidad Complutense de Madrid, Facultad de Educación, Departamento de Didáctica y Organización Escolar, leída el 16/12/2015
Collections