Publication:
Aplicaciones de las redes neuronales en las finanzas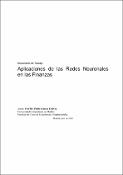 Files
Authors
Advisors (or tutors)
Editors
Publisher
Facultad de Ciencias Económicas y Empresariales. Decanato
Abstract
Se estudian las Redes Neuronales Supervisadas como herramientas para la predicción de tendencias y como clasificadoras de conjuntos de datos en los analisis financieros.
Citation
ALHONIEMI, E HIMBERG, J PARVIAINEN, J y VESANTO, J.: SOM Toolbox 2.0, a software library for Matlab 5 implementing the Self-Organizing Map algorithm Laboratory of Computer and Information Science. Helsinki. 2000. AMARI, S-I.: Topographic organization of nerve field. Bulletin of Mathematical Biology 42 1980: Pág. 339 - 364. APOSTOL, T.: Cálculus. Tomo I y II Reverté. Barcelona 1986. AZOFF, M.: Neural network tome series forecasting of financial markets. John Wiley & Sons. Sussex. 1997. DAVIES, D.L., BOULDIN, D.W.: A Cluster Separation Measure. IEEE Transactions on Pattern Analysis and Machine Intelligence, vol. PAMI-1, no. 2, 1979, pp. 224-227. DEBOECK, G.: Self-Organizing Maps facilitate knowledge discovery in finance. Financial Engineering news. Nº 8 . Seattle. 1998. DEMUTH, H y BEALE, M.: Neural Network Toolbox User's Guide The MathWorks, Inc. Natick, MA. 1998. DÍEZ DE CASTRO, L. y MASCAREÑAS, J.: Ingeniería Financiera. Segunda Edición. Ed. McGraw – Hill. Madrid 1995. FREEMAN, J y SKAPURA, D.: Redes neuronales. Algoritmos, aplicaciones y técnicas de programación. Ed. Addison - Wesley. Wilmington, Delaware. USA 1993. GURNEY, K. y WRIGHT, M.: A self-organising neural network model of image velocity encoding. Biological Cybernetics, 68: 173-181. HILERA, J. y MARTÍNEZ, V.: Redes Neuronales Artificiales. Ed. Ra – Ma. Madrid 1995. KOHONEN, T.: Self – Organization and Associative Memory. Springer – Verlag. Berlin 1989. KOHONEN, T.: Self – Organized formation of topologically correct feature maps. Biological Cybernetics 43: 59–69. 1982. KOHONEN. T.: Introduction to SOM Toolbox. EET DST Helsinki 1997. KRÖSE, B y SMAGT, P.: An introduction to Neural Networks. University of Amsterdam. Amsterdam 1996. MARTÍN DEL BRÍO, B. SANZ MOLINA, A.: Redes neuronales y sistemas borrosos. . Ed. Ra – Ma. Madrid 1997. MINSKY, M. PAPERT, S.: Perceptrons. MA: MIT Press. Cambridge 1969 Introducción y Pág. 1–20. MORENO, A.: Trabajando con Matlab y la Control System Toolbox. Ed. Ra-Ma. Madrid 1999. O'ROURKE, B.: Neurnal nets forecast futures prices. Financial Engineering News. Nº 1. Seattle 1998. PENG, S. DATTATREYA, R.: The Structured Note Market. Ed. Probus. Chicago. 1995. REFENES, A.: (Editor) Neural Networks in the Capital Markets. Ed. John Wiley & Sons. Londres 1995. RÍOS, J. PAZOS, A. BRISABOA, N. CARIDAD, S.: Estructura Dinámica y Aplicaciones de las Redes de Neuronas Artificiales. Ed. Centro de Estudio Ramón Areces. Madrid. 1991. ROSENBLATT, F.: Principles of Neurodynamics. Spartan Books. New York 1989. ROSENBLATT, F.: The Perceptrón: A probabilistic model for information storage and organization in the brain. Psychological Review, 1958 Nº 65. RUIZ, R. JIMÉNEZ, J.: Las redes neuronales en su aplicación a las finanzas. Banca Finanzas. Nº 54. Abril 2000. Pág 19–26. WILDROW, B. HOFF, M.: Adaptive switching circuits. 1960 IRE Wescon. Grabación de la convección. Nueva York. 1960. WILLSHAW D.J. MALSBURG, C.: How patterned connections can be set up by selforganization. Proceedings of the Royal Society of London, B 194: Pág. 431-445.