Publication:
Mass Digitization at the Complutense University Library: Access to and Preservation of its Cultural Heritage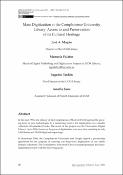 Advisors (or tutors)
Editors
Abstract
In the mid-1990s, the Library of the Complutense of Madrid (UCM) applied the growing body of new technologies to a pioneering project: the digitization of a valuable collection of biomedical books. The result of the project was the Dioscorides Digital Library. Up to 2006, however, the pace of digitization was very slow, resulting in only 3,000 books and 50,000 digitized engravings. In September 2006, the Complutense University and Google signed a partnership agreement for the purpose of carrying out large-scale digitization of our public domain collections. By early 2011, the Complutense Library had digitized roughly 120,000 out-ofcopyright books from the 16th to the 19th centuries. All these materials are easily accessible via the Complutense Library Catalogue, Google Books and HathiTrust Digital Library. The Complutense University of Madrid joined the HathiTrust Digital Library in November 2010, which allowed books digitized by Google to be stored on HathiTrust servers. The HathiTrust Digital Library is both a digital preservation repository and a platform for access. It provides long-term preservation and access services for public domain and in-copyright content from a variety of sources, including Google, the Internet Archive, Microsoft, and in-house partner institution initiatives. In early 2011, the number of HathiTrust public domain volumes reached the two million mark and the collection exceeded eight million volumes. In addition, and complementing the above, the digital content of the Complutense University Library will be aggregated to Europeana during 2011 and 2012.
Citation
Beers, Shane, Jeremy York and Andrew Mardesich (2010): 'Adding new content types to a large-scale shared digital repository', Austrian Computer Society (OCG). http://hdl.handle.net/2027.42/83275. Chambers, Sally and Wouter Schallier (2010): 'Bringing Research Libraries into Europeana: Establishing a Library-Domain Aggregator', Liber Quarterly, 20/1, available from http://liber.library.uu.nl/. Christenson, Heather (2011): HathiTrust. 'A Research Library at Web Scale', Library Resources & Technical Services, 55(2), April 2011. Conway, Paul (2010): 'Preservation in the age of Google: digitization, digital preservation, and dilemmas', Library Quaterly, 80(1). European Commission. 'COM, (2010): 245. Communication from the Commission to the European Parliament, the Council, the European Economic and Social Committee and the Committee of the Regions: a Digital Agenda for Europe.' http://ec.europa.eu/information_society/digital-agenda/documents/digital-agendacommunication-en.pdf. European Commission, Comité des Sages (2011): ' The New Renaissance: Report of the 'Comité des Sages' Reflection group on bringing Europe's Cultural Heritage online, Brussels, http://ec.europa.eu/information_society/activities/digital_libraries/doc/refgroup/final_report_cds.pdf. Rieger, Oya Y. (2008): 'Preservation in the Age of Large-Scale Digitization. A White Paper', Washington, Council on Library and Information Resources. Schonfeld, Roger C. (2010): Conclusion. In: Library of Congress Cataloging-in-Publication Data. The Idea of Order: Transforming Research Collections for 21st Century Scholarship, June, http://www.clir.org/pubs/reports/pub147/pub147.pdf. Wilkin, John (2011): 'Bibliographic Indeterminacy and the Scale of Problems and Opportunities of "Rights" in Digital Collection Building', CLIR and DLF 'Ruminations' series, February, http://www.clir.org/pubs/ruminations/01wilkin/wilkin.html. York, Jeremy (2010): 'Building A Future By Preserving Our Past: The Preservation Infrastructure of HathiTrust Digital Library', World Library and Information Congress: 76th IFLA General Conference and Assembly. 10–15 August 2010, Gothenburg, Sweden. http://www.ifla.org/files/hq/papers/ifla76/157-york-en.pdf. York, Jeremy (2011): HathiTrust Open Webinar (slides), http://www.hathitrust.org/documents/HathiTrust-OpenWebinar-201105.ppt.
Collections