Publication:
Efectos de la colchicina sobre la placa aterosclerótica: estudio en un modelo de aterosclerosis en conejo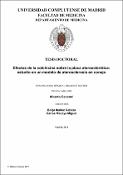 Files
Authors
Advisors (or tutors)
Editors
Publisher
Universidad Complutense de Madrid
Abstract
La aterosclerosis es una enfermedad vascular crónica y una de las principales causas de mortalidad en el mundo. En los últimos 50 años de investigación, se ha desvelado el papel fundamental de la inflamación en la aterosclerosis, tanto en sus etapas iniciales como en su progresión. Estudios de ciencia básica y traslacional han documentado múltiples mecanismos a través de los cuales la colchicina podría modular la inflamación presente en la placa aterosclerótica. Entre ellos, destacan la inhibición de la infiltración leucocitaria, la inhibición de la activación macrofágica y la inhibición de la activación del inflamosoma NLRP3 inducida por cristales de colesterol. Además, recientemente la colchicina ha demostrado beneficios clínicos en el tratamiento de la enfermedad coronaria estable. Nuestro objetivo fue evaluar los efectos de la colchicina sobre la progresión de la placa aterosclerótica. Métodos: Para alcanzar nuestro objetivo se utilizó un modelo experimental de aterosclerosis en conejo y se realizó un amplio estudio de imagen en serie que incluyó imágenes de resonancia magnética (RM), tomografía por emisión de positrones con 18F-fluorodeoxiglucosa integrada con tomografía computarizada (PET/TC con 18F-FDG), tomografía de coherencia óptica (OCT) e inmunohistoquímica...
Atherosclerosis is a chronic vascular disease and is one of the leading causes of mortality in the world. Over the last 50 years of research the fundamental role of inflammation in atherosclerosis has been unveiled. Basic and translational science studies have documented multiple mechanisms in support of the use of colchicine as modulator of the inflammation inside the atherosclerotic plaque. These physiological pathways include inhibition of leukocyte infiltration, inhibition of macrophage activation, and inhibition of the activation of the NLRP3 inflammasome induced by cholesterol crystals. In addition, colchicine has recently shown clinical benefits in the treatment of stable coronary disease. Our objective was to evaluate the effects of colchicine on the progression of atherosclerotic plaque. Methods: To reach our objective, we used an experimental model of atherosclerosis in rabbits and we performed a large series of imaging of abdominal aortas, including magnetic resonance imaging (MRI), positron emission tomography with 18F-fluorodeoxyglucose integrated with computed tomography (PET / CT with 18F-FDG), optical coherence tomography (OCT) and immunohistology...
Description
Tesis de la Universidad Complutense de Madrid, Facultad de Medicina, Departamento de Medicina, leída el 15/11/2017
Collections