Publication:
Impacto de la constitución de un grupo multidisciplinar en la seguridad del paciente traumatológico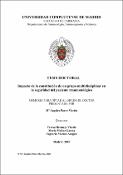 Files
Authors
Advisors (or tutors)
Editors
Publisher
Universidad Complutense de Madrid
Abstract
"Introducción" Los errores de medicación (EM) constituyen la causa mas frecuente de aparición de eventos adversos (EA), ocasionando lesiones en los pacientes e incluso la muerte, además de importantes costes sanitarios. No existen sistemas libres de errores, por lo que el objetivo fundamental de la seguridad clínica consiste en minimizar los riesgos y posibilidades de error, facilitando que los procesos se realicen correctamente. La seguridad del paciente es una prioridad para las autoridades sanitarias. En España, durante estos últimos anos se han desarrollado iniciativas para mejorar la seguridad del paciente, tanto por el Ministerio de Sanidad, Servicios Sociales e Igualdad, como por las Comunidades Autónomas, las sociedades científicas y distintos organismos e instituciones. En los hospitales se han realizado distintos tipos de actuaciones e implantado Practicas Seguras de Medicación, aunque, al igual que sucede en EE.UU y otros países, su grado de implantación es todavía bajo. El Plan de Calidad del Sistema Nacional de Salud y de la Organización Mundial de la Salud (OMS) recoge, entre sus recomendaciones para mejorar la seguridad del paciente, la creación de Grupos de Trabajo multidisciplinares dentro de cada especialidad. Los grupos de trabajo en seguridad son equipos multidisciplinares que se reúnen periódicamente para analizar, con un enfoque sistemático, los incidentes de seguridad que han ocurrido en una unidad clínica o servicio con el objetivo de establecer las medidas de prevención pertinentes. En estos grupos, la implicación activa del farmacéutico es necesaria para la mejora de la seguridad de todos los procesos del sistema de utilización de los medicamentos. Y así, por ejemplo, los beneficios de la intervención farmacéutica se han constatado en distintos estudios, obteniéndose una tasa de aceptación del prescriptor en relación a las recomendaciones del farmacéutico que oscila entre un 39,0 y un 91,6%...
"Introduction" Medication errors (ME) are the most common cause of adverse events (AE), which can lead to patient injury and even death, as well as involve significant health costs. No errorfree systems exist, and therefore the fundamental objective of clinical safety is to minimise risks and potential errors, thereby making it easier for processes to be conducted correctly. Patient safety is a priority for health authorities. In Spain, initiatives to improve patient safety have recently been developed by the Ministry of Health, Social Services, and Equality and by Autonomous Communities, scientific societies, and other organizations and institutions. Different types of actions and Safe Medication Practices have been implemented in hospitals. Nevertheless, the degree of implementation is still low, which is similar to the situation in the USA and other countries. The Quality Plans of the Spanish National Health System and the World Health Organization (WHO) include the creation of multidisciplinary Working Groups within each specialty among their recommendations to improve patient safety.Safety working groups are multidisciplinary teams that meet periodically to systematically analyse safety incidents in clinical units or services in order to establish relevant prevention measures. The active involvement of pharmacists in these groups is needed to improve the safety of all the processes in the medication use system. For example, the benefits of pharmaceutical intervention have been described in different studies, which have found that pharmacists' recommendations achieved an acceptance rate of 39.0% to 91.6% among prescribers...
Description
Tesis inédita de la Universidad Complutense de Madrid. Facultad de Farmacia, leída el 23-06-2020
Collections