Publication:
Análisis tomográfico del complejo nasomaxilar en el Pachón Navarro con fisura palatina congénita no tratada y tratada con palatoplastia convencional o con la técnica experimental de inyección/adhesión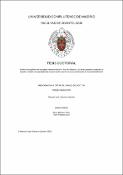 Files
Authors
Advisors (or tutors)
Editors
Publisher
Universidad Complutense de Madrid
Abstract
Objetivos: Hace unos años, nuestro grupo de investigación demostró que el Perro Pachón Navarro es un excelente modelo animal para lograr avances en el conocimiento y mejorar la calidad de vida de los pacientes fisurados, ya que estos perros pueden presentar fisuras labiopalatinas espontáneas y, con un manejo adecuado, es posible que alcancen la edad adulta sin ser operados, utilizando dispositivos que les permiten alimentarse normalmente como cualquier otro perro. Gracias a la puesta a punto del modelo y de las técnicas necesarias para lograr su desarrollo hasta la edad adulta, ensayamos una nueva técnica experimental, mínimamente invasiva, como alternativa a la palatoplastia convencional. Así, pudimos compararlas y examinar sus efectos, tanto entre sí como respecto a otros perros de paladar normal o fisurados sin tratar.
Objectives: A few years ago, our research group demonstrated that the Pachón Navarro dog is an excellent animal model to advance the understanding of cleft palate and improve the quality of life of patients. Since these dogs can present spontaneous cleft lip and palate, with an appropiate management it is possible for them to reach adulthood without being subjected to an operation by using devices that allow them to feed normally like any other dog. Thanks to the establishment of the model and the necessary techniques to achieve this development into adulthood, we tested a new minimally invasive experimental technique as an alternative to conventional palatoplasty. Thus, we were able to examine and evaluate the effects of both intervention techniques as well as comparing the results with untreated dogs with either a normal or cleft palate.
Description
Tesis inédita de la Universidad Complutense de Madrid, Facultad de Odontología, leída el 17-12-2021
Collections