Publication:
Diseño de estructuras dinámicas para ofrecer gráficos y pantallas emergentes en entorno web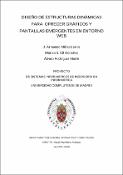 Advisors (or tutors)
Editors
Abstract
La finalidad de nuestro proyecto ha sido la creación de un sistema que permite desarrollar de forma simple sobre él una aplicación basada en web con carga importante de base de datos. La funcionalidad de este sistema se ha enfocado en ofrecer capacidad automatizada para mostrar interfaces web y gráficos que interaccionan y recogen la información de una base de datos, así como son capaces de modificarla. Por lo tanto, nuestro desarrollo está orientado al tratamiento de la base de datos de la aplicación que se quiera construir, de forma que toda la funcionalidad gire en torno a ésta. Para ello, se requiere la configuración en nuestro sistema de las acciones que se deseen permitir en la aplicación que se va a crear. En concreto, estas acciones tienen la siguiente estructura: mediante un formulario generado automáticamente por el sistema, el usuario introduce los parámetros; a continuación, el sistema ejecuta la acción sobre la base de datos; por último, los resultados de la ejecución son mostrados en forma de tabla o gráfico al usuario. Además, ofrecemos distinción entre usuarios para que ciertos usuarios puedan realizar solo ciertas acciones. La intención a lo largo de todo el desarrollo ha sido siempre permitir la mayor flexibilidad posible, de modo que se pudiese realizar el mayor número posible de acciones distintas, formas de representación, etc. Aunque el estado actual del proyecto no permite toda la funcionalidad que desearíamos, el haber sido pensado con la flexibilidad en mente permite que se pueda extender de forma natural en la mayoría de los aspectos que aún no están incluidos. También se aplica, a la hora de hablar de la flexibilidad, la intención de reusabilidad que hemos pretendido otorgar a todos los elementos del sistema, especialmente el uso de una misma Acción para varios objetivos en función de sus parámetros y otros aspectos de la configuración. Por ejemplo, permitir usar una misma acción para mostrar un gráfico o una tabla o crear una nueva acción a partir de otra solamente agregando un parámetro, sin tener que configurar una acción desde el principio en ninguno de los dos casos. El proyecto tiene aún por delante una fase de extensión pues la complejidad en la configuración de las acciones se ha demostrado que es excesiva. En esta fase, se propone mejorar ese aspecto principalmente para hacer un sistema realmente útil a la hora de crear aplicaciones web.
The main objective of this project is to create a system that allows developing in a simply way a web application by using numerous databases as the main focus. The functionality of this system has been focused on offering an automatized capacity to show multiple interfaces' web. Thanks to these webs, there are show graphics that interact and gather information from a database as well as they modify it. Therefore, our development is aimed at treating the database application that wants to be built so that all the functionality rotates around it. In order to accomplish this, a configuration of the numerous actions that allow the different uses of the application that will be created in our system is required. Specifically, these actions have the following structures: a form will be created in an automatic way in which from than point on the user should introduce the corresponding parameters. Afterwards, the system will run the actions to the database. Finally, the results made by the run will be shown to the user in a graphic organizer or table. There is the possibility to distinguish among various types of users in order to limit the different actions of each type of user. As we have stated before, the aim of this project during all its development has been to allow the best available flexibility so that different actions or ways of representation can be achieved. Although we know that the current functionality is limited, due to the high flexibility in the project developed, the potential extensibility of most of the aspects not included will take place naturally. The flexibility mentioned before will also allow the reutilize of the elements of the system; especially the use of the same action for various purposes depending on its parameters and other aspects of the configuration. For example, allowing the use of the same action to display a graph or a table. This procedure also allows the use of a single action to create a new action from another simpler action by just adding a parameter, without preconditioning in either cases. Due to the extent complexity of these configurations of the actions, our project has a prior extension"s phase very important. During this phase, it is aimed to improve that aspect mainly to make a really useful system when creating web applications.
Description
Proyecto de Sistemas Informáticos (Facultad de Informática, Curso 2013-2014)
Collections