Publication:
Métodos de decisión multicriterio discretos para el análisis de alternativas en el sector inmobiliario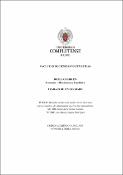 Authors
Advisors (or tutors)
Editors
Abstract
En el presente estudio se analizan los métodos de decisión multicriterio discretos, tanto desde la perspectiva de su formulación matemática como de su aplicación en sector inmobiliario. Para ello se utilizarán dos metodologías diferentes, en las que intervendrán varios métodos de decisión.
Description
This study analyzes discrete multicriteria decision making methods, both from the perspective of their mathematical formulation and their application in the real estate sector. For this purpose, two different methodologies will be used, involving several decision methods.