Publication:
La arquitectura deposicional de los carbonatos del Jurásico inferior y medio relacionados con los materiales volcánicos del sureste de la Cordillera Ibérica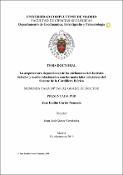 Files
Authors
Advisors (or tutors)
Editors
Publisher
Universidad Complutense de Madrid
Abstract
Esta Tesis Doctoral ha sido realizada bajo la dirección del Profesor Juan José GÓMEZ FERNÁNDEZ y la tutela de la Profesora Yolanda SÁNCHEZ MOYA, del Departamento de Geodinámica, Estratigrafía y Paleontología de la Universidad Complutense de Madrid. El trabajo de investigación se ha centrado en la consecución de dos objetivos fundamentales: 1) Datar mediante métodos bioestratigráficos el emplazamiento estratigráfico de cada uno de los niveles volcánicos interestratificados en las sucesio-nes sedimentarias del Jurásico Inferior y Medio (p.p.), localizados en la confluencia de las provincias de Teruel, Valencia y Castellón (sureste de la Cordillera Ibérica), y 2) Determinar la arquitectura de-posicional de las unidades litoestratigráficas que contienen estos depósitos volcánicos. Para ello, se realizó una cartografía geológica detallada y se llevaron a cabo estudios bioestratigráficos, sedimentológicos y cicloestratigráficos. La Tesis ha sido dividida en 4 Partes y 7 Capítulos, distribuidos de manera no equitativa entre cada una de las Partes. La PARTE I, titulada INTRODUCCIÓN Y ANTECEDENTES, consta de dos capítulos. En el Capitulo 1 (INTRODUCCIÓN) se describen los objetivos planteados, los métodos de trabajo empleados y, posteriormente, la localización geográfica, geológica y paleogeográfica del área estudiada. El Capítulo 2 se ha llamado REVISIÓN CRÍTICA DE LOS ANTECEDENTES porque se pretendió que no fuese una mera enumeración de trabajos previos, sino más bien un análisis y crítica motivados de su contenido...
This Ph.D. Thesis was conducted under the supervision of Professors Juan José GÓMEZ FERNÁNDEZ and Yolanda SÁNCHEZ MOYA of the Departamento de Geodinámica, Estratigrafía y Pa-leontología of the Universidad Complutense de Madrid. The research has been focused on the achievement of two main goals: 1) the biostratigraphical dating of each volcanic level placed within the sedimentary successions of the Lower and Middle Jurassic (p.p.), located at the confluence of Teruel, Castellón and Valencia provinces (southeastern Iberian Range), and 2) determining the depo-sitional architecture of the lithostratigraphic units that contain these volcanic deposits. For these purposes, detailed geological mapping, as well as biostratigraphical, sedimentological and cyclostratigraphical analysis have been performed.The Ph.D. Thesis has been structured in 4 parts, unevenly subdivided into 7 chapters. The PART I, titled INTRODUCTION AND BACKGROUND, comprises two chapters. In the Chapter 1 (INTRODUC-TION), the foreseen objectives and the working methods in practice are initially described. The following is a geographical, geological and palaeogeographical location of the study area. The Chapter 2 has been called CRITICAL REVIEW OF THE BACKGROUND because it was intended to be a reasoned and well-founded criticism, rather than a merely listing of previous works...
Description
Tesis inédita de la Universidad Complutense de Madrid, Facultad de Ciencias Geológicas, Departamento de Geodinámica, Estratigrafía y Paleontología, leída el 21-09-2018
Collections