Publication:
La evolución de las actitudes del héroe en el cine de Hollywood: percepción de psicología del espectador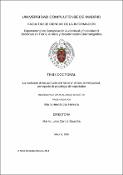 Files
Authors
Advisors (or tutors)
Editors
Publisher
Universidad Complutense de Madrid
Abstract
El cine ha ido pasando por diversas etapas que destacan por la existencia de características comunes, en el ámbito académico se suele dividir en clásico, moderno y postmoderno. Los diferentes elementos narrativos, tales como el espacio, el tiempo, la acción e, incluso, la construcción física de los personajes, se actualizan y evolucionan a lo largo de la historia, formando parte en el nacimiento de una nueva tipología de cine. Sin embargo, en el estudio de la caracterización psicológica de los protagonistas y, más concretamente, de los héroes no se ha explorado tanto como con el resto de elementos. El espectador se convierte en uno de los principales agentes quien no solo dota de significado a la obra sino que, también, actúa como juez y testigo privilegiado de las acciones del héroe, mismas que sirven como referente para crear un compendio de las actitudes que son definitorias del mismo. Además, el espectador forma parte de un colectivo, semejante al comportamiento del protagonista, que puede ser entendido en relación a otros personajes, por ende, la presente investigación se centra en determinar la evolución en las actitudes del héroe por medio de un estudio empírico aplicado al espectador con una metodología propia de la psicología social. Para este objetivo se escogieron tres películas que se corresponden con cada uno de los periodos cinematográficos y se elaboró una serie de proposiciones que son planteadas al espectador quien, por medio de su propia percepción, será el encargado final de determinar si los protagonistas pueden ser catalogados como héroes y cuál es el compendio de actitudes que los caracterizan.
The cinema has gone through several stages that stand out by the existence of common features, in the academic sphere it is usually divided in classical, modern and postmodern. The different narrative elements, such as space, time, action and even the physical construction of characters, update and evolve throughout history, being part in the birth of a new type of cinema. However, in the psychological characterization study of the protagonists and, more specifically of the heroes, has not been explored as the rest of elements. The viewer becomes one of the main agents who do not gives credit to the work but also acts as judge and privileged witness of the hero's actions which serve as a reference to create a compendium of the hero's attitudes. Moreover, the viewer is part of a group, alike the behavior of the protagonist can be understood in relation to other characters, therefore, this research focuses on defining the evolution of the herós attitudes through an empirical study applied to viewers with a social psychology methodology. For this purpose three films corresponding to each one of the cinematographic periods are selected and a series of questions for the viewer were set out, who, using the perception, can determine whether the protagonists can be cataloged as heroes and what is the compendium of attitudes that characterize them.
Description
Tesis inédita de la Universidad Complutense de Madrid, Facultad de Ciencias de la Información, Departamento de Comunicación Audiovisual y Publicidad II, leída el 09-12-2015
Collections