Publication:
Mecanismos de diferenciación ígnea en diques de pórfido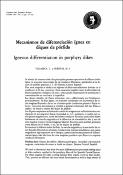 Advisors (or tutors)
Editors
Publisher
Seminario de Estudos Galegos. Area de Xeoloxía e Minería ; Instituto Universitario de Xeoloxía "Isidro Parga Pondal"
Abstract
Se aborda de manera teórica los principales procesos operativos de diferenciación ígnea en secciones transversales de los conductos filonianos, aplicándolo a los diques de pórfido granítico s. 1. del Sistema Central Español. Para estos magmas se deduce un régimen de flujo marcadamente laminar en el conducto (:s 30 mts, potencia). Estos caracteres impiden tanto la efectividad de franccionamiento cristalino ",in situ», como grados importantes de asimilación o contaminación en ruta hacia la superficie, Los diques simples, de flujos isoviscosos, van a diferenciarse por fenómenos, principalmente, de flujo ígneo, en ocasiones combinado con la presencia de varios magmas fluyendo a la vez en el mismo pulso (conductos gruesos o flujos veloces). Con estos mecanismos se tenderá a generar evoluciones del tipo félsico a máfico, de borde a centro del dique de pórfido. Los diques compuestos se formarán cuando los magmas son suficientemente contrastados en sus caracteres físicos (viscosidad, p_ ej_) y químicos, o cuando son varios pulsos magmáticos a través del mismo conducto. En estos casos podría haber fenómenos de mezcla magmática si la diferencia de viscosidad es alta y uno de esos magmas es poco viscoso (magmas básicos). En estos casos podrían generarse zonas básicas en el borde, o no, de los diques de pórfido. En resumen la diferenciación de flujo, la mezcla magmática y la asociación de varios líquidos fluyendo en el mismo conducto (de manera simultánea o por pulsos magmáticos algo separados en el tiempo), parecen ser los mecanismos de diferenciación ígnea más efectivos de estos magmas graníticos que fluyen en angostos conductos filonianos.
We deal in theoretical way with the main differentiation proccesses taking place in dike conducts, applied to the porphyry dikes of the Spanish Central System. For these magmas we infer a strong laminar flow regime (:s 30 m dike witdh), This, prevent an efficient ",in situ. cristal fractionation as well as large extent of assimilation-eontamination processes during the aseent of the magmas «en route» to more surfaee levels. Simple dikes, with isoviseous flow, eould differentiate mainley by igneous flow. Sometimes this meehanism is eombinated with the possibility of several magmas flowing togheter on the same pulse (thick dikes or fast flows). With these mechanisms felsie to mafie evolutions are favoured inward the porphyry dike. Composite dikes are formed when magmas are eontrasted enough in their chemical or physical features (p. ej. viseosity), or when different magmatie pulses oecur in the same ehannel. In these eonditions eommingling of magmas eould exist if the viseosity ratio is high apd one of the magmas is very fluid (basie one). These processes eould generate basie margins in the porphyry dikes These processes eould generate basie margins in the porphyry dikes.In short, flow differentiation, magmatie mixing and flowing of associated magmas (simultaneously or by sueeessive pulses), seem to be the more efficient differentiation meehanisms for granitic magmas flowing in narrow dikes.
Collections