Publication:
Repercusiones territoriales de la fractura hidráulica o "fracking" en Cantabria, Burgos y Palencia. Los Permisos de Investigación Bezana y Bigüenzo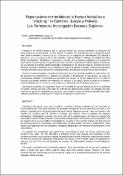 Authors
Advisors (or tutors)
Editors
Abstract
'Fracking' es el término genérico que se usa para definir una técnica combinada de extracción de hidrocarburos no convencionales. En este artículo se abordan las consecuencias que su aplicación puede tener sobre el territorio. Partiendo de los "Permisos de Investigación de hidrocarburos (PI) Bezana y Bigüenzo", que se localizan en el sur de Cantabria y norte de Burgos y Palencia, se analizan los datos físicos, demográficos, hidrológicos, económicos, y sociales de las comarcas implicadas y se exponen las repercusiones que el fracking va a generar sobre este territorio y su población. El texto explica las presiones que se ejercerán en distintos ámbitos sectoriales, centrándose en tres tipos de impactos: la destrucción de la estructura territorial, el deterioro de la calidad de las aguas y la pérdida de empleo. Impactos que agravarán el declive del medio rural, acentuando su despoblamiento y perjudicando el desarrollo de estas comarcas. Como es un asunto complejo y envuelto en confusiones, el texto se presenta dividido en cuatro partes. Las dos primeras son introductorias y explican los conceptos y fundamentos de esta técnica, así como las connotaciones políticas y económicas que envuelven este asunto. La tercera explica cómo va a influir el fracking en el modelo territorial de explotación de recursos; y la cuarta y última se centra en el territorio concreto definido por los "Permisos de Investigación de hidrocarburos (PI) Bezana y Bigüenzo". Este informe constituye un diagnóstico previo. En la medida en que esta técnica aún no se ha extendido en España, tendrían que pasar años antes de confirmar las repercusiones exactas. Sin embargo, las tesis expuestas se apoyan en argumentos de tanto peso, que resultan un punto de partida ineludible para iniciar cualquier planificación y evaluación al respecto de la aplicación de esta técnica. [ABSTRACT] Fracking is the generic term used to define a combined technique employed for the extraction of unconventional gas. This article discusses the potential consequences that this procedure can have on the territory. Departing from the"Hydrocarbon Research Permits Bigüenzo-Bezana", wich are located in the Southern of Cantabria and the Northern of Burgos and Palencia, there is analyzed the physical, demographic, hydrological, economic, and social data of the implied region, and there are exposed the repercussions that the implementation of such activity will generate in this territory and its population. The text explains the pressures in different sectorial levels, focusing on three specific impacts: the destruction of the territorial structure, consumption and deterioration of water quality, and loss of employment. These impacts will aggravate the rural decadence, increasing depopulation and harming the development in the areas affected. To approach the complexities and controversies surrounding the issue, the current article has been divided in four parts. The first part offers a definition of the main concepts and fundaments of this combined technique; the second one explores the political and economic influences related whit this matter; the third one analyse the implications of fracking in the context of the territorial system of exploitation of resources; and the forth and last illustrates the example of "Hydrocarbon Research Permits Bigüenzo-Bezana". This report is intended to be a preliminary diagnosis. Since this technique has not yet put in practice in Spain, it would take years before could be drawn about their precise impacts. However, the thesis presented here are solid enough as to be considered a basic and an essential starting point for the eventual evaluation of this technique.
Citation
 ABC 26-5-1932 y 20-5-1952  Acuña, Irlec A; Monsegue, Alan; Brill, Thilo; Graven, Hilbrand; Mulders, Frans; Le Calvez, Jean Luc; Nichols, Edward; Zapata, Fernando; Notoadinegoro, Dian; & Sofronov, Ivan. (2010) Scanning for Downhole Corrosion. Oilfield Review nº 22-1, pág. 42-50.  Aguilar Fernández, Susana y Jordan, Andrew J. (2003) Principio de precaución, políticas públicas y riesgo: Política y sociedad, Vol 40, No 3 , Madrid, Universidad Complutense.  Agencia Internacional de la Energía (AIE) (2012). Golden Rules for a Golden Age of Gas. World Energy Outlook, Special Report on Unconventional Gas. International Energy Agency.  Alexander, Tom; Baihly, Jason; Boyer, Chuck; Clark, Bill; Waters, George; Jochen, Valerie; Le Calvez, Joel; Lewis, Rick; Miller, Camron; Thaeler, John; Toelle, Brian. (2011). Shale gas revolution. Oilfield Review, nº 23- 3, pág. 40-56.  Al-Ghazal, M.A; Al-Sagr, A.M; & Al-Driweesh, S.M. (2011) Evaluation of Multistage Fracturing Completion Technologies as Deployed in the Southern Area Gas Fields of Saudi Arabia. Saudi Aramco Journal of Technology, Fall 2011; pág. 34-41.  Al Harthy, Salah; Bustos, Óscar; Samuel, Mathew; Still, John; Fuller, Michel J; Hamzah, Nurul; Pudin bin Ismail,Mohd Isal; & Parapat, Arthur. (2008) Options for High-temperature well stimulation. Oilfield Review, nº 20- 4; pág. 52-62  Al-Mjeni, Rifaat; Arora, Shyam; Cherukupalli, Pradeep; Van Wunnik, John; Edwards, John; Felber, Betty Jean; Gurpinar, Omer; Hirasaki, George; Miller, Clarence; Jackson, Cuong; Kristensen, Morten; Lim, Frank; & Ramamoorthy, Raghu. (2010) Has the Time Come for EOR. Oilfield Review nº 22-4; pág. 16-35.  Alonso Suárez, Alejandro & Mingo González, Marta (2010). La expansión de la producción de gas de yacimientos no convencionales (esquistos, capas de carbón y arenas compactas). Una revolución silenciosa. Cuadernos de energía nº 28; pág. 5-17.  Anteproyecto de Ley de Evaluación Ambiental, 18 de abril. Ministerio de Agricultura, Alimentación y Medio Ambiente. Secretaría de Estado de Medio Ambiente. Dirección General de Calidad y Evaluación Ambiental y Medio Natural  Anuario de Aforos. http://sig.magrama.es/aforos  ASPO Association for the Study of Peak Oil & Gas. www.peakoil.net  Ayala Carcedo, Fco. Javier (2006). Geología y prospección del petróleo. En "El petróleo de La Lora. La esperanza que surgió del páramo". Moreno Gallo coord.  Barnolas, A. y Pujalte, V. (2004).- La Cordillera Pirenaica: definición límites y división, en Geología de España, J. A. Vera (Ed.) SGE-IGME, Madrid, pág. 233-241.  Beck, Ulrich (1998) La sociedad del riesgo. Hacia una nueva modernidad En Paidós Básica (Risikogesellschaft. Auf dem Weg in eine andere Moderne (1986)  Boyer, Chuck; Clark, Bill; Jochen, Valerie; Lewis, Rick; Miller, Camron K. (2011). Shale gas A Global Resource. Oilfield Review, nº 23- 3. pág. 28-39.  BP Statistical Review of World Energy, June 2012.  Cabañas Rodríguez, L., Carreño Herrero, E., Izquierdo Álvarez, A., Martínez Solares, J.M., Capote del Villar, R., Martínez Díaz, J., Benito Oterino, B., Gaspar Escribano, J., Rivas Medina, A., García Mayordomo, J., Pérez López, R., Rodríguez Pascua, M. A., Murphy Corella, P. (2011). Informe del sismo de Lorca del 11 de mayo de 2011. Madrid: Instituto Geográfico Nacional.  Callahan, Jonathan. (2012) Gas Boom Goes Bust. Ver en http://www.theoildrum.com/pdf/theoildrum_8900.pdf pág.1-11.  Camarero, Luis coord. (2009) La población rural de España. De los desequilibrios a la sostenibilidad social. Colección Estudios Sociales nº 27. Obra social Fundación La Caixa.  Camarero, Luis (2011) Un difícil equilibrio: desarrollo rural y sostenibilidad social. En Desarrollo Rural y Sostenibilidad: Estrategias y experiencias en España y Brasil. Ed. Asociación País Románico.  Campbell, Colin & Laherrère, Jean H. (1998) El fin del petróleo barato. Scientific American, Marzo de 1998; pág. 78-83.  Castells, Manuel (1999) La era de la información: economía, sociedad y cultura. México: sXXI.  Censi, Paolo (2009). El camino hacia la recuperación del petróleo pesado. Petroleum nº 233, junio: Pág. 27-29.  Center for Energy Economics (2003) Introduction to Liquefied Natural Gas (LNG). En Energy Economics Research at the Bureau of Economic Geology. Jackson School of Geosciencies, University of Texas, Austin.  Clean Water Act. Sec. 502 [33 U.S.C. 1362] General Definitions.  CNE (2003) Cronología del Sector petrolero español. Comisión Nacional de la Energía. Dirección de Petróleo.  Comisión CE (1988) Comunicación de la Comisión al Consejo y al Parlamento Europeo: El futuro del mundo rural 17 de octubre de 1988 COM (88) 501 final.  Comisión CE. (2005) Libro Verde sobre la eficiencia energética o cómo hacer más con menos, [22.6.2005 COM(2005) 265]  Comisión CE. (2006) Libro Verde estrategia europea para una energía sostenible, competitiva y segura [COM (2006) 105 final - no publicado en el Diario Oficial].  Comisión CE. (2007) Comunicación de la Comisión al Consejo y al Parlamento Europeo, de 10 de enero de 2007, Sobre una política energética para Europa [COM (2007) 1 final - no publicada en el Diario Oficial].  Comisión CE. (2007) Comunicación de la Comisión al Consejo y al Parlamento Europeo, de 10 de enero de 2007, Producción sostenible de electricidad a partir de combustibles fósiles: conseguir centrales eléctricas de carbón con emisiones próximas a cero después de 2020 [COM (2006) 843 final - no publicada en el Diario Oficial].  Comisión CE. (2007) Comunicación de la Comisión al Consejo, al Parlamento Europeo, al Comité Económico y Social Europeo y al Comité de las Regiones, de 10 de enero de 2007, Limitar el calentamiento mundial a 2 ºC- Medidas necesarias hasta 2020 y después [COM (2007) 2 final - no publicada en el Diario Oficial].  Comisión CE (2008) Comunicación de la Comisión de 13-11-08 Eficiencia energética: alcanzar el objetivo del 20% [COM(2008) 772]  Comisión Europea (2011). Comunicación de la Comisión al Parlamento Europeo, al Consejo, al Comité Económico y Social Europeo y Al Comité de las Regiones. Hoja de Ruta de la Energía para 2050 COM (2011) 885 final.  Comisión Nacional de la Energía (CNE) (2006) Cronología del sector petrolero español. Dirección de Petróleo.  Corbera Millán, Manuel (2002)."Cambios en el empleo rural en Cantabria: neoliberalismo, desarrollo rural y pluriactividad". Los espacios rurales entre el hoy y el mañana: actas de XI Coloquio de Geografía Rural, Santander, 1 al 4 de octubre de 2002 , Universidad de Cantabria, Servicio de Publicaciones. -- Pp. 327-336.  Corporate Europe Observatory (CEO) (2011). The Lobby Planet. Bruselas el barrio europeo.  Cotarelo, Pablo (cooordinador) (2012). Agrietando el futuro. La amenaza de la fractura hidráulica en la era del cambio climático. Colección Ensayo nº 5.  Creek, Jefferson; Cribbs, Myrt; Dong, Chengli; Mullins, Oliver; Elshahawi Hani; Hegeman, Peter; O'Keefe, Michael; Peters, Kenneth; & Youxiang Zou, Julian. (2010). Downhole Fluids Laboratory. Oilfield Review, nº 21-4; pág. 38-54.  Cruz, Fátima (2011) Sostenibilidad y desarrollo territorial en Europa y España. En Desarrollo Rural y Sostenibilidad: Estrategias y experiencias en España y Brasil. Ed. Asociación País Románico.  Curtis, Carl; Kopper, Robert; Decoster, Eric; Guzmán-García, Ángel; Huggins, Cynthia; Knauer, Larry; Miner., Mike; Kupsch, Nathan; Linares, Luz Marina; Rough, Howard; & Waite, Mike. (2002) Heavy Oil Reservoirs. Oilfield Review nº 14-3; pág. 30-51.  Decreto 107/2007 por el que se aprueba el Plan de Ordenación de los Recursos Naturales del Espacio Natural Hoces del Alto Ebro y Rudrón.  Delgado, Carmen (1997) Crisis y reconversión en espacio rurales de montaña en Cantabria. ERIA nº 44, pág 335-357.  Deneault, Alain & Sacher, William (2013). "La industria minera reina en Canadá". En Le Monde Diplomatique ed. Española. Sep. 2013, pág. 13.  Derry, Thomas K. & Williams, Trevor I. (1977). Historia de la tecnología desde 1750 a 1900. Siglo XXI Editores.  Deutsch, C.V. & McLennan, J.A.. (2005) Guide to SAGD (Steam Assisted Gravity Drainage) Reservoir Characterization Using Geostatistics. En Centre for Computational Geostatistics, Guidebook series vol 3, University of Alberta Edmonton, (Canada), pág.  D'Huteau, Emmanuel; Gillard, Matt; Miller, Matt; Peña, Alejandro; Johnson, Jeff; Turner, Mark; Medvedev, Oleg; Rhein, Tom; & Willberg, Dean (2011). Open-Channel Fracturing- A Fast Track to Production. Oilfield Review, nº 23-3; pág. 4-17.  Directiva 94/22/CE del Parlamento Europeo y del Consejo de 30 de Mayo de 1994 sobre las condiciones para la concesión y el ejercicio de las autorizaciones de prospección, exploración y producción de hidrocarburos  Directiva 2000/60/CE (Directiva Marco del Agua) del Parlamento Europeo y del Consejo, de 23 de octubre de 2000 por la que se establece un marco comunitario de actuación en el ámbito de la política de aguas  Directiva 2003/55/CE del Parlamento Europeo y del Consejo de 23 de junio de 2003 sobre el mercado interior del gas natural.  Directiva 2004/8/CE del Parlamento Europeo y del Consejo de 11-2-2004 relativa al fomento de la cogeneración sobre la base de la demanda de calor útil en el mercado interior de la energía y por la que se modifica la Directiva 92/42/CEE.  Directiva 2011/92/UE del Parlamento Europeo y del Consejo de 13 de diciembre de 2011 relativa a la evaluación de las repercusiones de determinados proyectos públicos y privados sobre el medio ambiente.  Environmental Potection Agency (EPA) (1987). Management of Wastes from the Exploration, Development and Production of Crude Oil, Natural Gas and Geothermal Energy. Report to Congress, Vol I of 3 Oil & Gas. Office of Solid Waste & Emergency Response. Washington D.C.  EEA 2013. Late lessons from early warnings: science, precaution, innovation EEA Report1./2013 23 enero.  EIA (Energy Information Administration) (2013) World Shale Gas & Shale Oil Resource Assessment Capítulo XII pág. 1-9.  European Communities (2003) Common Implementation Strategy for the Water Framework Directive (2000/60/EC); Doc. Guía nº 3 Analysis of Pressures and Impacts. Produced by Working Group 2.1-IMPRESS.  EU energy in figures (2013). Statistical Pocketbook 2013.  Felczak, Edwin; Torre, Ariel; Godwin, Neil; Mantle, Kate; Naganathan, Sivaraman; Hawkins, Richard; Li, Ke; Jones, Stephen; & Slayden, Fred. (2012) The Best of Both Worlds: A Hybrid Rotary Steerable System. Oilfield Review 23-4 pág. 36-45.  Graham, Stephen (1998). The end of geography or the explosion of place? Conceptualizing space, place and information technology. En Progress in Human Geography 22,2 (1998) pp. 165-185.  Hernández, Mª Esther & López, Liliana. (1997). Migración primaria de bitumen de poros cerrados a poros abiertos en la formación Querecual, estado Anzoátegui, Venezuela. Revista Latinoamericana de Geoquímica orgánica, vol 3; pág. 33-41.  http://fracturahidraulicano.info/  Hughes, J. David (2013). Drill, Baby, Drill. Can Unconventional fuels usher in a new era of energy abundance. Post Carbon Institute.  Icane (2012) Anuario Estadístico de Cantabria. Instituto Estadístico de Cantabria.  IGME & EVE (2009) Mapa de de rocas y minerales industriales de la Cuenca Vasco-Cantábrica 1:200.000. Memoria  IPCC (2007). Cambio climático 2007: Informe de síntesis. Contribución de los Grupos de trabajo I, II y III al Cuarto Informe de evaluación del Grupo Intergubernamental de Expertos sobre el Cambio Climático [Equipo de redacción principal: Pachauri, R.K. y Reisinger, A. (directores de la publicación)]. Ginebra, Suiza, 104 pág.  IPCC (2011). Informe Especial Sobre Fuentes de Energía Renovables y Atenuación del Cambio Climático (IFRAC) Undécima reunión del Grupo de Trabajo III del IPCC. Ver Comunicado de Prensa 9-5-2011.  Kuuskraa, Vello A; Stevens, Scott H. (2009). Worldwide Gas Shales & Unconventional Gas: A Status Report. Advanced Resources International, Inc. Arlington, VA USA December 7, 2009. JAF29167.DOC.  Kuuskraa, Vello; Stevens, Scott; Van Leeuwen, Tyler; & Moodhe, Keith. (2011). World Shale Gas Resources: An Inicial Assessment of 14 Regions Outside the United Status. Advanced Resources International Inc. Arlington, VA USA. Prepared for: U. S. Energy Information Administration Office of Energy Analysis Washington DC.  La Vanguardia Española 26-5-1932 y 21-5-1952  Lanaja J.M. (1987) Contribución de la explotación petrolífera al conocimiento de la Geológia de España. IGME  Lewis, Rick; Ingraham, David; Pearcy,Marc; Williamson, Jeron; Sawyer, Walt; & Frantz, Joe: Pittsburgh. (2004). New Evaluation Techniques for Gas Shale Reservoirs. Schlumberger Reservoir Simposium 2004.  Ley 22/1973, de 21 de julio de Minas.  Ley 21/1974 de 27 de junio, sobre investigación y explotación de hidrocarburos.  Ley 34/1998 de 7 de octubre del sector de hidrocarburos, modificada por la Ley 12/2007 de 2 de julio.  Loi 2011-835, du 13 de juillet 2011, visant à interdire l'exploration et l'exploitation des mines d'hydrocarbures liquides ou gazeux par fracturation hydraulique et à abroger les permis exclusifs de recherches comportant des projets ayant recours à cette technique. Publicada en el Diario Oficial de 14 de julio de 2011.  López, Liliana. (1997). Evidencias de migración primaria del bitumen: Formacion Querecual, Venezuela. Interciencia 22(5); pág. 228-237. URL: http://www.interciencia.org.ve  Lowey, Mark (2004) "Father of invention" Univ. Calgary.  Lustgarten, Abraham. (2011). Former Bush EPA Official Says Fracking Exemption Went Too Far; Congress Should Revisit. En Pro Publica, Journalism in the Public Interest, 9-3-2011.  Manrique E, y Romero J. (2010). Estatus de la recuperación mejorada de petróleo. TIORCO LLC (A Nalco & Stepan Company) pág. 1-4  Marzo, Mariano (2008). Recursos convencionales y no convencionales de petróleo y gas. En Enseñanza de las Ciencias de la Tierra, núm. 16.3, p. 218-228.  Masters, John A. (1979) Deep Basin Gas Trap, Western Canada American Association of Petroleum Geologists. Bulletin 63, No. 2: 152-181.  Mata-Perelló, Josep Maria & Mata Lleonart, Roger (2009). La minería y la nueva clasificación de los recursos geológicos. En Segundo Congreso Internacional sobre Geologia y Mineria en la Ordenación del Territorio y en el Desarrollo. Utrillas-2009, P.14 pág. 175-184  Mc Carthy, Kevin; Rojas, Catherine; Niemann, Martin; Palmowsky, Daniel; Peters, Kenneth; & Stankiewicz, Artur. (2011). Basic Petroleum Geochemistry For Source Rock Evaluation. Oilfield Review, nº 23- 2; pág. 32-43.  McKelvey (1972). "Mineral resources estimates and public policy", Scientific American, vol. 60, pág. 32-40.  Mech, Michelle (2011) A Comprehensive Guide to the Alberta Oil Sands. Understanding the Environmental and Human Impacts, Export Implications, and Political, Economic, and Industry Influences. Green Party of Canada.  Meléndez Hevia, Fernando (1982). El origen del petróleo. COL-PA. Publicaciones de departamento de paleontología, Nº 37, pag. 61-65.  Meléndez Hevia, Ignacio (2004) Geología de España. Una historia de seiscientos millones de años. Ed. Rueda S.L.  Moreu Carbonell, Elisa. (2012). Marco Jurídico de la Extracción de Hidrocarburos Mediante Fractura Hidráulica (Fracking). En Revista Catalana de Dret Ambiental Vol. III Núm. 2 (2012): 1 – 43.  Mossadeq Ahmed, Nafeez. (2013) La Gran estafa del gas de esquisto. Le Monde Diplomatique en español. Marzo 2013, pág. 24.  Murray, James & King, David. (2012) Climate Policy: Oil's Tipping Point Has Passed. En Nature nº 481, pág. 433-435.  Navarro, Vicenç (2013) El origen de la crisis actual. En Le Monde Diplomatique, julio 2013.  O'Brien, Richard & Keith, Alasdair, (2009). The geography of finance: after the store. En Cambridge Journal of Regions, Economy and Society 2009, 2, 245–265  Palmer, Arthur N. (2011) Some Concerns about Hydrofracturing in Shale-Gas Production.  Parlamento Europeo (VV: AA) (2011). Repercusiones de la extracción de gas y petróleo de esquisto en el medio ambiente y la salud humana. Dirección General de Políticas Interiores. Departamento Temático A: Política Económica y Científica.  Parlamento Europeo; Comisión de Industria, Investigación y Energía, (2012), Proyecto de informe sobre aspectos industriales, energéticos y otros del gas y el aceite de esquisto (2011/2309 [INI]) de 30 de marzo de 2012  Parlamento Europeo; Comisión de de Medio Ambiente, Salud Pública y Seguridad Alimentaria, (2012) "Proyecto de informe sobre las repercusiones medioambientales de la extracción de gas y petróleo de esquisto" (2011/2308[INI]), de 11 de abril de 2012.  Perry, Kent; Lee, John; & Holditch, Stephen A. (2007). Unconventional Gas Reservoirs—Tight Gas, Coal Seams, and Shales. Topic Paper 29. Working Document of the NPC Global Oil and Gas Study. National Petroleum Council (NPC).  Petroleum Oil & Gas España S.A. (2012) Documento ambiental para la realización de un sondeo de investigación de hidrocarburos en Alfoz de Bricia (Burgos). Petroleum & Gas España S. A. Grupo Gas Natural FENOSA.  Petroleum Oil & Gas España S.A. (2013) Documento ambiental para la realización de ocho sondeos de exploración para la toma de testigo en Valdeprado del Río (Cantabria) Petroleum & Gas España S. A. Grupo Gas Natural FENOSA.  Philippe & Partners (2011). Final report on unconventional gas in Europe. Preparado para la Dirección General de Energía de la Comisión Europea 8-noviembre de 2011.  Quesada, Santiago & Robles Sergio (2012) Características y origen del petróleo de Hontomín, Cuenca Vascocantábrica (Norte de España). En GEOGACETA 52. Sociedad Geológica de España / www.geogaceta.com pág. 169-172  Ramírez Madrid, Luis Fernando (1994). Historia de la minería en Puertollano. Ed. Puertollano  Raoul, Emmanuel (2010) Bajo las arenas bituminosas de Alberta. En Le Monde Diplomatique edición española. Mayo 2010; pág. 16 y 17.  RD 2362/1976, de 30 de julio. por el que se aprueba el Reglamento de la Ley sobre Investigación y Explotación de Hidrocarburos de 27 de junio de 1974.  Rine, James M; Dorsey, William; Floyd, Marvin; & Lasswell, Patrick. A Comparative SEM Study of Pore Types and Porosity Distribution in High to Low Porosity Samples from Selected Gas-Shale Formations Weatherford Laboratories. 5200 N. Sam Houston Pkwy West, Suite 500 Houston, Texas 77086  Rogers, Deborah (2013) Shale & Wall Street: Was The Decline In Natural Gas Prices Orchestrated?. Energy Policy Forum.  Rogner, H-H.(1997). An Assessment of World Hydrocarbon Resources. Annual Reviews Energy Environ. Pág. 217-262.  Ruiz Gómez, Fernando (1996) El impacto del pantano del Ebro. En Cuadernos de Campoo nº 6  Safe Drinking Water Act. Sec. 1421 (d).  Sakmar, Susan L. (2010). The Future of Unconventional Gas: Legal, Policy and Environmental Challenges to the Development of North American Shale Gas. Calgary, Canada, 14-16 October 2010.  Sakmar, Susan L. (2011). The Global Shale Gas Initiative: Will the United States Be the Role Model for the Development of Shale Gas Around the World? Houston Journal of International Law vol 33 nº 2, pág. 369-416.  Salager, Jean Louis (2005). Recuperación mejorada del petróleo. En Cuaderno FIRP S357-C; Módulo de enseñanza en fenómenos interfaciales. Univ de los Andes, Facultad de Ingeniería, Escuela de Ingeniería Química. Mérida- Venezuela.  San Román, Elena & Sudrià, Carles. (1999) Autarquía e ingenierismo: la empresa nacional Calvo Sotelo y la producción de lubricantes sintéticos. La industrialización y el desarrollo económico en España. Universidad de Barcelona. Homenaje al Dr J. Nadal vol 2; pág. 1499-1530.  SEDIGAS (2011). Informe anual. Asociación Española del Gas.  SENER (2012). Prospectiva del Mercado de Gas Natural 2012-2026. Secretaría de Energía. Gobierno Federal de México.  SHESA (2006) "Medidas de Protección Ambiental y Plan de Restauración del Permiso de Investigación de Hidrocarburos de Angosto-I".  SHESA (2012) Documento ambiental proyecto de perforación de un pozo para exploración de hidrocarburos. Sondeo Enara-9 en Junta de Traslaloma (Burgos)".  Sung Lee, Dae; Herman, Jonathan D; Elsworth, Derek; Tae Kim, Hyun; & Suk Lee, Hyun. (2011). A Critical Evaluation of Unconventional Gas Recovery from the Marcellus Shale, Northeastern United States. KSCE Journal of Civil Engineering. Vol. 15, nº 4. pp 679-687. Korean Society of Civil Engineers.  Torrente Hernández, Mª del Carmen (2008). Estudio de la solubilidad del kerógeno de pizarras bituminosas de Puertollano (Ciudad Real) en distintos fluidos supercríticos. Univ. Salamanca.  Universidad de Cantabria. (2010) Escenarios regionales probabilísticas de cambio climático en Cantabria: Termopluviometría. U.C. Gobierno de Cantabria. Consejería de Medio Ambiente  Weijermars, Ruud & McCredie, Crispian (2012) Inflating US shale gas reserves. En Petroleum Review diciembre 2011, pág. 36y ss.  Wisniewsky, Maciek (2011). Fracking: buscando el cielo capitalista I (18-12-2011) y II (29-12-2011). En "La Jornada". Universidad Autónoma de México.  www.ciuden.es  www.diariodeburgos.es 16-9-2012  www.elmundo.es/elmundo/2010/09/29/castillayleon/1285756720.html  www.gazprom.com  www.halliburton.com  www.iarca.net/post-317  www.igme.es/internet/PanoramaMinero.  www.magrama.gob.es/es/agua/publicaciones/impress_tcm7-29158.pdf Manual para la identificación de las presiones y análisis del impacto en aguas superficiales Dirección General del Agua de la Sª Gral. para el Territorio y la Biodiversidad, del Ministerio de Medio Ambiente.  www.minetur.gob.es/energia/petroleo/Exploracion/Mapa/Paginas/mapSondeos.aspx  www.naturalgaseurope.com/spain-shale-gas-de-esquisto-heyco  www.seap.minhap.es/dms/es/ministerio/delegaciones_gobierno/delegaciones/cantabria/actualidad/notas_de_prensa/notas/2009/11/2009_11_13-1/parrafo/0/PERMISOSINVESTIGACIONHIDROCARBUROSBEZANABIGUENZO.pdf  www6.mityc.es/aplicaciones/energia/hidrocarburos/petroleo/exploracion2012/mapas/contenidos/pdf/Listado%20alfabetico%20sondeos.pdf - Yi Fu Tuan (1977) Space & Place: The Perspective of experience. Minneapolis. University of Minnesota Press.