Publication:
Generación de texturas de espín y paredes de dominio en nanoestructuras de óxidos correlacionados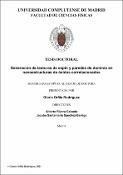 Files
Authors
Advisors (or tutors)
Editors
Publisher
Universidad Complutense de Madrid
Abstract
El capítulo 1 es una introducción general sobre los óxidos fuertemente correlacionados y los materiales que se van a estudiar. Se describen los aspectos físicos que hay detrás de las manganitas en general y el LSMO en particular, con especial atención a los efectos de espín como la magnetorresistencia. Se introduce también la superconductividad de tipo II con el YBCO como ejemplo paradigmático y el modelo de estado crítico de Bean. El capítulo 2 describe las técnicas experimentales que se utilizan en este trabajo. Se explica el crecimiento por pulverización catódica o sputtering, el análisis estructural de las muestras con difracción de rayos X, el análisis morfológico con microscopía de fuerzas atómicas (AFM) y de magnetrotrasporte en criostato de ciclo cerrado de He. Por su importancia, se desarrolla el proceso de fabricación de nanoestructuras con litografía por haz de electrones, el ataque y la deposición de contactos metálicos con litografía óptica. Finalmente se detallan las dos técnicas de caracterización magnética en la escala nanométrica utilizadas, las imágenes de dicroísmo circular magnético (XMCD) en el microscopio de fotoemisión de electrones (PEEM) y el microscopio de fuerzas magnéticas (MFM). En el capítulo 3 se describe el estudio de la nucleación y manipulación de paredes de dominio en nanohilos de LSMO diseñados para tener una región donde compiten diferentes anisotropías de forma. Se explican los detalles particulares de la fabricación, y se hace un amplio estudio magnético y de transporte de los dispositivos, que permite entender la formación y el movimiento de las paredes de dominio de 180º al invertir el campo. Se fabrican nanodispositivos diseñados para modificar la dinámica de las paredes, consiguiendo mejorar su magnetorresistencia para su aplicación práctica...
Chapter 1 is a general introduction to the strongly correlated oxides and materials to be studied. The physical aspects behind manganites in general and LSMO in particular are described, with particular attention to spin effects such as magnetoresistance. Type II superconductivity is also introduced with the YBCO as a paradigmatic example and Bean's critical state model. Chapter 2 describes the experimental techniques used in this work. The growth by sputtering, the structural analysis of the samples with X-ray diffraction, the morphological analysis with AFM and the magnetrotransport analysis in closed-cycle He cryostat are explained. Due to its importance, the fabrication process of nanostructures with electron beam lithography, etching and contact deposition with optical lithography is developed. Finally, the two magnetic characterization techniques at the nanometric scale used are detailed, the magnetic circular dichroism images (XMCD) in the photoelectron emission microscope (PEEM) and the MFM. Chapter 3 describes the study of the nucleation and manipulation of domain walls in LSMO manganite nanowires designed to have a region where different shape anisotropies compete. The particular details of fabrication are explained, and an extensive magnetic and transport study of the devices is made, which allows the formation and movement of the 180º domain walls to be understood by inverting the field. Nanodevices designed to modify the dynamics of the walls are fabricated, thus improving their magnetoresistance for technological application...
Description
Tesis inédita de la Universidad Complutense de Madrid, Facultad de Ciencias Físicas, Departamento de Física de Materiales, leída el 26/01/2021
Collections