Publication:
Programación y modelo informativo del Canal 24 Horas de TVE en el contexto de las cadenas temáticas todo-noticias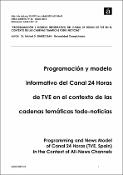 Authors
Advisors (or tutors)
Editors
Publisher
Departamento de Comunicación Audiovisual y Publicidad I. Facultad de Ciencias de la Información UCM
Abstract
Este artículo analiza las características formales y conceptuales de la programación del Canal 24 Horas (Televisión Española), tomando como referencia las transformaciones producidas en las cadenas internacionales de información continua. La investigación se ha desarrollado mediante la aplicación de un análisis de contenido, con el objetivo de revelar los rasgos fundamentales de la parrilla del canal. También estudia las características sintácticas y argumentales del programa La Noche en 24 Horas, que se emite en horario prime time. El análisis, que se realiza a la luz de las transformaciones en las cadenas temáticas informativas, arroja algunas de las limitaciones que aún persisten en la parrilla de programación del Canal 24 Horas, entre ellas el exceso de ruedas informativas y el escaso peso del debate y la opinión. [ABSTRACT]This article on programming and prime time of Canal 24 Horas (TVE, Spain) analyzes the formal and conceptual characteristics of an extraordinary phenomenon today: the all-news channels. The research was developed by applying content analysis. The objectives have been to reveal the fundamental features of the program schedule of Canal 24 Horas and the syntactic and argumental characteristics of the show La Noche en 24 Horas, which airs on prime time. The analysis, based on the changes of the all-news channels worldwide, reveals some of the limitations that still persist in the program schedule of Canal 24 Horas, including excess of newswheel and poor supply of debate and opinion programs.
Citation
BARDIN, Laurence: Análisis de contenido. Ediciones Akal, Madrid, 2002 BARROSO GARCÍA, Jaime: Realización de los géneros televisivos. Editorial Síntesis, Madrid, 2002 BERELSON, Bernard: Content Analysis in Communication Research. Free Press, Nueva York, 1952 CASETTI, Francesco; DI CHIO, Federico: Análisis de la televisión. Instrumentos, métodos y prácticas de investigación. Ediciones Paidós Ibérica, Barcelona, 1999 CEBRIÁN HERREROS, Mariano: Información televisiva. Mediaciones, contenidos, expresión y programación. Editorial Síntesis, Madrid, 2003 CHAFFIN, Joshua; VAN DUYN, Aline: "Interview transcript: Rupert Murdoch and Roger Ailes". Financial Times, Londres, 6 de octubre de 2006 [http://www.ft.com/cms/s/2/5b77af92-548c- 11db-901f-0000779e2340.html#axzz1AcuMGOP1] (consultado el 29 de septiembre de 2010) CONTRERAS, José Miguel; PALACIO, Manuel: La programación de televisión, Editorial Síntesis, Madrid, 2003 FOX NEWS: "Schedule Daytime" [http://www.foxnews.com/fnctv/index.html] (consultado el 23 de septiembre de 2010) GAITÁN, Juan A.; PIÑUEL, José L.: Técnicas de investigación en Comunicación Social. Elaboración y registro de datos. Editorial Síntesis, Madrid, 1998 GORDILLO, Inmaculada: Manual de narrativa televisiva. Editorial Síntesis, Madrid, 2009 HERNÁNDEZ SAMPIERI, Roberto et. al: Metodología de la investigación. McGraw-Hill Interamericana, México DF, 2003 HERVÁS IVARS, Christian: El diseño gráfico en televisión: Técnica, lenguaje y arte. Ediciones Cátedra. Madrid, 2002 KRIPPENDORFF, Klaus: Metodología de análisis de contenido. Teoría y práctica. Paidós. Barcelona, 1990 PEÑA TIMÓN, Vicente: Narración Audiovisual. Investigaciones. Ediciones del Laberinto, Madrid, 2006 SUÁREZ SIAN, Michel D.: Canales de noticias en televisión. Contexto operativo, geopolítica y tecnología. Editorial Fragua, Madrid, 2001 WHITTEMORE, Hank: Historia secreta de la CNN. Fundesco, Madrid, 1992
Collections