Publication:
Extensión de la Política de Reemplazamiento peLifo a Entornos Multicore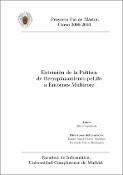 Authors
Advisors (or tutors)
Editors
Abstract
En la actualidad, continúa el incremento entre la diferencia de velocidad del procesador y la memoria. Esta diferencia de velocidades ha sido mitigada en forma parcial mediante el uso de la jerarquía de memoria que se construye usando diferentes tipos de memoria, logrando que la velocidad de acceso se acerque al componente más rápido y la capacidad al componente más grande. Con la llegada de los sistemas multicore, algunos de los aspectos de diseño deben ser replanteados para sacar el máximo provecho a este tipo de sistemas. Uno de estos aspectos, es el manejo de la cache de último nivel (LLC) onchip, pues ésta es la frontera antes de pasar a la memoria principal, la cual presenta una latencia de acceso mucho más alta. Una de las formas de mejorar el comportamiento de la LLC, es mediante la modificación de la política de reemplazamiento. Este trabajo se centra en la política de reemplazamiento probabilistic escape lifo (peLifo). Esta política ha presentado buenos resultados, en términos de la tasa de fallos obtenida, en entornos singlecore, por tanto el objetivo de este trabajo es ampliar la política a entornos multicore, para intentar sacarle mayor provecho. Tomando en cuenta este objetivo, se han planteado una serie de modifica ciones a la política peLifo original, agregándole información sobre el comportamiento individual de cada uno de los procesos que se encuentren en ejecución en un momento dado. De este modo, se pretende privilegiar a los procesos que realizan un mejor uso de la LLC conservando sus bloques y penalizar a los otros procesos reemplazando sus bloques. [ABSTRACT] Today, the difference in the speed of processor and memory continues to increase. This difference has been partially mitigated building a memory hierarchy that uses different types of memory, making the access time to approach to the fastest component and the capacity to the biggest component. With the arrival of multicore systems, some of the design considerations must be adapted to get more benefits out of these systems. One of those aspects is the on-chip last level cache (LLC) management, since a miss on that level implies accessing main memory, which has considerable latency. One of the ways to improve the LLC behavior is modifying the replacement policy. This work focuses in the probabilistic escape lifo (peLifo) replacement policy, that obtains very low miss rates for singlecore systems. In this work we try to extend this policy to multicore systems to get even more benefit of it. With this objective in mind, this work proposes several modifications to the original peLifo policy. All of them, add information about each executing process, and use it to keep the blocks of those processes that make a better use of the LLC, and to penalize the others by evicting their blocks.
Description
Máster en Investigación en Informática, Facultad de Informática, Departamento de Arquitectura de Computadores y Automática, curso 2009-2010