Publication:
Redes, lógicas no clásicas y neuronas. De los límites de la matematización más allá de la Física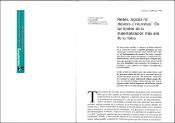 Authors
Advisors (or tutors)
Editors
Publisher
Sociedad Española de Profesores de Filosofía
Abstract
En el presente artículo se exponen las líneas maestras de la Teoría de grafos y aquellos problemas de corte formal que la misma muestra como modelo para explicar el funcionamiento del cerebro. Las redes, concepto que dicha teoría intenta sistematizar y comprender matemáticamente, son de sumo interés para cualquier profesor que pretenda arrojar una cierta luz sobre el perfil que en la actualidad están tomando el terrorismo, la cibernética y, por supuesto, las últimas investigaciones neurocientíficas.
In this article the author states the graphs theory and the problems shown by this not so successful model to explain the brain processes. The networks -"network" is a concept we cannot understand without graphs theory- are very interesting fort those teachers who want to exdplain to their student important and different current problems such as terrorism, Internet or our brain itself.
Collections