Publication:
A través del prisma del humor: el humor en prácticas artísticas contemporáneas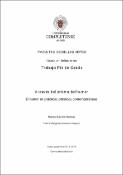 Authors
Advisors (or tutors)
Editors
Abstract
Este trabajo desarrolla el estudio y puesta en práctica del humor en el arte contemporáneo como una herramienta de reflexión del tiempo en el que vivimos. Con este propósito, se hace un marco teórico definiendo la temática tratada desde el análisis y en relación con el contexto social contemporáneo. Para ello, se utilizan referencias artísticas que respaldan la clasificación propuesta por la autora. El estudio parte de la hipótesis de que una obra de arte puede ser crítica con su entorno utilizando el humor, y cómo este recurso la hace más eficaz ante el espectador. El objetivo es crear este trabajo, que se vincula con la producción personal, dando lugar a una reflexión crítica, unas conclusiones y un glosario de artistas. Se muestra cómo el humor se incorpora a la práctica contemporánea para analizar la situación actual. Problemas sociales y personales que se sirven de la risa para ser tratados desde otro punto de vista y generar un divertimento, una reflexión y una posible solución. Del mismo modo, se expone la importancia del espectador y del contexto. Todo ello pretende seguir ampliándose en un futuro tanto en el ámbito académico como en la creación personal.
This project develops the study and implementation of humour in contemporary art as a cogitation tool of the time in which we are living. For this purpose, a theoretical framework is made defining the topic from the analytical aspect and relating it to the contemporary social context. In order to do that, artistic references are used with the aim of supporting the classification proposed by the author. The assumption is made that a work art can be critical of its environment by using the humour, and how this resource makes it more effective before the viewer. The objective is to create this text which, linked to personal production, leads to a personal critical cogitation, conclusions and a glossary of artists. It is showed how humour is incorporated into contemporary practice to analyse the current situation. Social and personal problems, that are feed of laugh in order to address them from other perspective and to generate an enjoyment, a thought and a possible solution. In the same way, it is exposed the importance of the viewer, as well as the context. All of that is predicted to continue to expand in the future both in the academic field and in personal creation.