Publication:
Are the EU biosecurity legislative frameworks sufficiently effective to prevent biological invasions in the Natura 2000 network? – A case study in Mediterranean Europe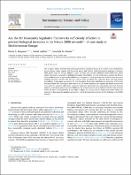 Advisors (or tutors)
Editors
Abstract
The European Natura 2000 (N2000) is the largest network of protected areas in the world. It was established to protect Europe's most valuable and threatened species and habitats. While introduction pathways of invasive alien species (IAS) are strongly linked to human activities, they are not prohibited within N2000 sites, which makes them highly vulnerable to biological invasions. Nevertheless, very few studies have assessed the efficacy of the N2000 network to prevent the establishment and spread of IAS in protected sites. Evidence from the scarce available literature indicates that IAS are a serious threat to N2000 sites, especially those with high human accessibility. In this paper we examine the main legislative frameworks underlying the regulation of IAS in the European Union (EU) and explore their links to the EU Nature Directives that regulate the N2000 network. We then assess the extent to which these biosecurity legislative frameworks have successfully prevented IAS from entering, establishing and spreading in N2000 sites, by performing a top-down analysis at the EU, state and local levels; the latter is showcased by a case study in Spain, the country with the largest area under N2000. We conclude by discussing the regulatory aspects that need to be improved to address the IAS challenge to the N2000 network.
Collections