Publication:
Estudio de la oxidación parcial de propano para la obtención de ácido acrílico utilizando catalizadores nanoestructurados MoVNbTeO/ϒ-Al₂O₃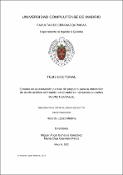 Files
Authors
Advisors (or tutors)
Editors
Publisher
Universidad Complutense de Madrid
Abstract
En el presente trabajo se han preparado y caracterizado catalizadores MoVNb(Te)O nanoestructurados, los cuales se han estabilizado utilizando γ-Al2O3 como soporte. Se han preparado distintas series con el objeto de estudiar el efecto en la composición y en la actividad catalítica de la relación atómica Mo/V, del recubrimiento de fase óxido sobre el soporte, de la atmósfera de calcinación y de la adición de Te como dopante. En la primera parte, se realiza un estudio convencional en el cual se describe la síntesis y la caracterización de los catalizadores antes y después de reacción mediante distintas técnicas (DRX, Raman, UV-vis, Fisisorción de Nitrógeno, XPS, HRTEM). Se describe también la evaluación catalítica de estos materiales tanto en la reacción de oxidación como en la amonoxidación de propano, para obtener ácido acrílico y acrilonitrilo, respectivamente. En la segunda parte se realizan estudios de caracterización adicionales, que incluyen la caracterización de los sitios activos superficiales en condiciones verdaderas de reacción (espectroscopía Raman operando), así como mediante el uso de moléculas sonda y de la reacción de oxidación de metanol como reacción test. Los resultados obtenidos son muy prometedores, pues se ha logrado identificar nanopartículas de fase activa (M1 y rutilo Mo-V-O), en forma de agregados menores a 10 nm en la superficie de un soporte de alúmina. También se ha demostrado que el comportamiento en reacción de estos catalizadores nanoestructurados es muy prometedor tanto en la reacción de oxidación como de amonoxidación, obteniéndose resultados similares a los reportados en bibliografía con catalizadores másicos. La ventaja de los catalizadores nanoestructurados es que son más económicos y presentan mejores propiedades mecánicas que los másicos convencionales. [ABSTRACT]Different series of nanostructured MoVNb(Te)O catalysts have been prepared and characterized, such materials have been stabilized by the use of γ-Al2O3 as support. The aim was to study the effect of different parameters in both the structure and in the catalytic activity. Such parameters were: Mo/V molar ratio, total oxide phase coverage on the alumina support, calcination atmosphere and addition of Te as dopant. In the first part, a conventional study has been performed in which is described the synthesis and characterization of catalysts before and after reaction, by different techniques such as XRD, Raman and UVVis spectroscopies, N2 adsoption, XPS and HRTEM. The catalytic activity has been evaluated during both propane oxidation and ammoxidation, for obtaining acrylic acid and acrylonitrile. In the second part some more additional characterization studies have been performed, under real reaction conditions (operando Raman spectroscopy), by the use of probe molecules and with the use of methanol oxidation as reaction test. The results reported are very promising, since nanoparticles of active phases (M1 and rutile) have been identified (as aggregates lower than 10nm) on the surface of alumina support. In addition, it has been demonstrated how the catalytic behavior of these materials is very promising for both propane oxidation and ammoxidation reactions, since the catalytic behavior is similar to that described in literature with conventional bulk catalytic materials. The advantage of the nanostructured catalysts is that they are more economical and have better mechanical properties.
Description
Tesis inédita de la Universidad Complutense de Madrid, Facultad de Ciencias Químicas, Departamento de Ingeniería Química, leída el 24/02/2012
Collections