Publication:
Reconstitución artificial de proteínas asociadas a citoesqueleto en sistemas modelo de mebrana: un estudio biofísico de su función mecánica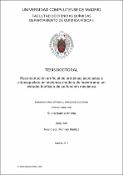 Files
Authors
Advisors (or tutors)
Editors
Publisher
Universidad Complutense de Madrid
Abstract
En la presente tesis doctoral se ha realizado el estudio de la función mecánica de tres proteínas que son básicas para el desarrollo de la vida a nivel celular. Las tres proteínas de estudio son la cadherina, la actina y la espectrina. Todas ellas están relacionadas con el esque-leto celular eucariota, las dos primeras formando parte esencial del córtex celular asociado a la membrana y la espectrina siendo la proteína básica del esqueleto de membrana del glóbulo rojo. Las cadherinas son moléculas hemofílicas que se caracterizan por interaccionar sola-mente con moléculas de la misma familia y son las responsables de la formación de contactos célula-célula estables en presencia de iones calcio. La familia de las cadherinas es particular-mente importante en los procesos dinámicos de regulación de los contactos adhesivos que están a su vez relacionados con diversos procesos morfogenéticos y de desarrollo. Las cadheri-nas están formadas por tres fragmentos claros, un dominio extracelular formado por cinco ectodominios globulares (ectodominio), un dominio helicoidal transmembrana y un dominio intracelular, el cuál interacciona con el citoesqueleto a través de un complejo proteico de ca-teninas. En esta tesis doctoral se realiza el estudio adhesivo a través del ectodominio completo obtenido a partir de la transformación genética de la cadherina eucariota. El objetivo de traba-jo con esta proteína es estudiar la energética del proceso adhesivo entre dos vesículas a partir de los ángulos de contacto y módulo de rigidez, así como estudiar la dinámica del contacto adhesivo entre dos vesículas y su reversibilidad mediante fuerzas de tracción mecánica y ten-sión lateral de membrana ejercida con la técnica de manipulación de micropipetas, y la micro-estructura del contacto adhesivo gracias a la crio-microscopía de transmisión electrónica...
In the present PhD Thesis we realize a study of the mechanical function of three differ-ent proteins that are necessary for life development at cellular level. The targeted proteins are cadherin, actin and spectrin, all of them related with the eukaryotic cell cytoskeleton. Cadherin and actin are essential components of cellular cortex associated to the cell membrane; spec-trin is the main skeletal protein of red blood cells. Cadherins are homophilic molecules that are characterized by only interact with other cadherin family members. They are the responsible, in presence of calcium ions, to form stable cell-cell contacts, so-named adherent junctions. The cadherin superfamily is particularly im-portant in dynamic processes of regulation the adhesive contacts related to morphogenetic and development processes. Cadherin are formed by three different domains: the extracellular domain (ectodomain), helicoidally transmembrane domain and intracellular domain that inter-acts to cytoskeletal network by the catenin complex. In this PhD thesis we perform a biophysi-cal study of the adhesion properties endowed by the whole ectodomain, which is obtained from the eukaryote C-cadherin genetically modified. The aim of this work is study the energet-ic adhesion process between two vesicles from their contact angle and bending modulus, as well as the dynamic of the adhesion process and their reversibility with mechanical traction forces applied from a micropipette manipulation, and finally the adhesion microstructure with the transmission electron cryo-microscopy...
Description
Tesis inédita de la Universidad Complutense de Madrid, Facultad de Ciencias Químicas, Departamento de Química Física I, leída el 27/11/2015
Collections