Publication:
La identidad como perspectiva crítica en las artes escénicas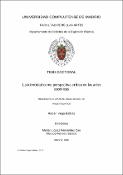 Authors
Advisors (or tutors)
Editors
Publisher
Universidad Complutense de Madrid
Abstract
Esta tesis explora críticamente las interacciones entre la identidad y las artes escénicas. Desde una perspectiva tecnológica, desarrollando el concepto deperformative device (dispositivo escénico/teatral), este estudio se centra en la mediación para analizar la co-presencia comunicativa de la corporalidad humana. Esta aproximación permite superar la hegemonía del discurso al proponer laincorporación y ladisposición como los procesos fundamentales a través de los que la existencia y el conocimiento se actualizan. Categorías como persona, sujeto yciudadano son aplicadas a la definición de las artes escénicas como campo y, de igual manera, eldispositivo performático revela las múltiples formas por las que lasitu-acción ritualizada concierne a la identidad. La metodología crítica desafía las dialécticas de la diferencia y, discutiendo la escisión metafísica con la tradición filosófica, la investigación llega a un nivel de observación cuántico en el que la inteligencia puede definirse, en términos bióticos, comoinstinto teatral. Concebir la imaginación como la tecnología transpersonal que permite la mediación entre lo virtual y lo actual pone en cuestión al sujeto, su autonomía creativa, y condiciona cualquier ulterior investigación a la esfera del humanismo extendido. Optar por lamediación en lugar de hacerlo por una categoría dialéctica como el discursoevidencia la perspectiva pragmática en la que nos posicionamos y desde la que el campo puede resultar fructíferamente ampliado. Colocándose en un fértil ámbito entre los Media & Communication Studies y losPerformance Studies, considerando ladisposición como el proceso interactivo central para la creación artística e identitaria, este estudio atraviesa las disciplinas en busca de los valiosos aportes que surgen de la filosofía, la sociología, la semiótica y la antropología...
This dissertation critically explores the interactions among performing arts and identity. Deploying the concept ofperformative device, this study stresses the technological perspective of mediation to analyze the communicative co-presence of human bodyness. This approach makes it possible to overpass the centrality of discourse and to target embodiment anddisposition as the key processes by which identity and knowledge become. Categories aspersona,subject andcitizen are applied into the definition of performing arts as a field, and, in like manner, the stage/theaterapparatus reveals the plurality of ways by which the ritualizedsitu-action concerns identity. Critical methods are addressed to challenge the dialectics of difference and, discussing the metaphysical schism with the philosophical tradition, the research leads into a quantum level of observance in whichtheatricality comes to characterize intelligence as a biotic instinct. Imagination, devised as the technology that allows transducting among the virtual and the factual, calls into question the limits of the subject, its creative autonomy, and subordinates the furtherance of the thesis to the sphere of an extended humanism. The shift from a dialectical category asdiscourse towardsmediation shows up a new technological perspective from which the field results fruitfully broadened. Setting itself in the fertile midst between Media & Communication Studies and Performance Studies, consideringdisposition as the central interactive process for the creation of both art and identity, this study traverses disciplines gathering into the discussion valuable contributions from philosophy, sociology, semiotics and anthropology...
Description
Tesis inédita de la Universidad Complutense de Madrid, Facultad de Bellas Artes, Departamento de Didáctica de la Expresión Plástica, leída el 21 enero de 2016
Collections