Publication:
Un nuevo modelo de comunicación, más allá de la publicidad: (Mejora de los negocios y generación de ventaja competitiva)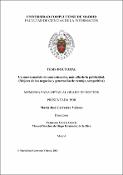 Files
Authors
Advisors (or tutors)
Sánchez de Diego Fernández de la Riva, Manuel
Editors
Publisher
Universidad Complutense de Madrid
Abstract
Los avances tecnológicos han sido, históricamente, impulsores de profundos cambios sociológicos (Bouza, 2002). La irrupción de la tecnología digital no solamente no ha constituido una excepción, sino que ha acelerado esos cambios (Uña, 2010), muy marcados en todo lo relativo a las pautas de consumo, tanto de productos como de información, y en lo que al comportamiento de los consumidores se refiere. La velocidad de estos avances es un reto añadido, tanto para las empresas, como para las agencias de publicidad, que deben ser capaces de ofrecer soluciones rápidas, válidas y eficaces, a nuevas necesidades y exigencias de sus clientes en particular, y de los consumidores en general. Por todo ello surge la necesidad de la investigación y creación de nuevas fórmulas empresariales, de nuevos enfoques de la comunicación y de nuevas formas publicitarias. La creatividad empresarial se presenta como una posible alternativa holística a todo ello, eficaz por su flexibilidad y dinamismo, e implementada en productos, servicios o procesos...
echnological advances have, historically, been a major driving force behind deep sociological change (Bouza, 2002). The very singular way in which digital technology has burst onto the scene has not only been exceptional, it has also accelerated those changes (Uña 2010), in themselves significantly marked by everything relative to consumption patterns, of products as well as of information, and also with regard to consumer behaviour. The rate at which this progress has taken place brings an extra challenge for companies, businesses and enterprises, and no less so to advertising agencies, which must be capable of offering quick, meaningful, workable solutions to the new needs and demands of their own customers in particular, and to consumers in general. This special dynamic has given rise to a need for research into, and the creation of, new entrepreneurial formulae, new ways of envisaging communication and a whole new outlook on advertising. Entrepreneurial creativity looms as a possible holistic alternative in the face of such a challenge, effective because of its flexibility and dynamism, and applicable to products, services and processes...
Description
Tesis inédita de la Universidad Complutense de Madrid, Facultad de Ciencias de la Información, leída el 26-05-2021
Collections