Publication:
Caracterización y origen de las estructuras prismáticas de paleosuelos dolomíticos. Paracuellos de Jarama, Mioceno, Cuenca de Madrid.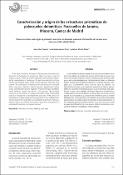 Advisors (or tutors)
Editors
Publisher
Sociedad Geológica de España
Abstract
En este trabajo se discute el origen de las estructuras prismáticas de los horizontes nodulares de las dolocretas del área de Paracuellos de Jarama. Estas estructuras son peds verticales o prismas, formados por peds de menor orden, que se encuentran delimitados por intercalaciones de lutitas. Los diferentes órdenes de peds están formados por dolomicrita con grietas estrechas y alargadas que, ocasionalmente, tienen cementos drusy de dolomita. Las intercalaciones de lutitas son principalmente esmectitas con fábricas sépicas y tienen una importante porosidad de canal, en la que se reconocen lutitas aglutinadas, cutanes, restos vegetales silicificados, fragmentos de dolomicrita y cristales equidimensionales de dolomita con núcleo negro. Los prismas y el resto de peds son el resultado de la producción de carbonato durante la actividad biológica de los microorganismos de la rizosfera y de las raíces de las plantas que colonizaron el sustrato original en intervalos de baja sedimentación. La peculiaridad de que haya precipitado dolomita como único carbonato se debe a la gran disponibilidad de Mg en un entorno alcalino, favorecido por la presencia de esmectitas trioctaédricas y materia orgánica.
In this work, we discuss the origin of the prismatic structures of the dolocretes of Paracuellos de Jarama area. These structures are vertical nodules or peds, formed by smaller order peds. All the peds are delimited by intercalations of mudstones. The peds are dolomitic and have narrow and elongate cracks, which occasionally have dolomitic drusy cements. The intercalations of mudstone are mainly smectites with sepic fabrics and have important channel porosity. Agglutinated lutites, cutans, silicified plant remains, fragments of dolomicrite and equidimensional dolomite crystals are found in the porosity. The prismatic structures are the products of carbonate formation during the metabolic activity of rhizosphere´s microorganisms and roots of the plants that colonized the original substrate during periods of low sedimentation. The fact that all the carbonate is only dolomite is due to the high availability of Mg in this alkaline environment, favoured by the presence of trioctahedral smectites and organic material.
Collections