Publication:
Scott y Zelda Fitzgerald y el psicoanálisis: la construcción de "Suave es la noche"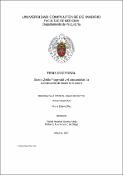 Files
Authors
Advisors (or tutors)
Editors
Publisher
Universidad Complutense de Madrid
Abstract
Esta tesis aporta una investigación original que pretende analizar la novela Suave es la noche (Tender is the Night, 1934) del escritor norteamericano Francis Scott Key Fitzgerald desde la perspectiva de las humanidades médicas y de manera particular, de las relaciones entre medicina y literatura. En Suave es la noche existen amplias referencias médicas y conceptos psicoanalíticos relacionados con la psiquiatría europea de finales del siglo XIX y comienzos del XX, por lo que cobra especial interés el análisis de su contexto psiquiátrico. Durante el internamiento de Zelda Fitzgerald en una clínica suiza en 1930, el matrimonio tuvo contacto con Oscar Forel y Eugen Bleuler, psiquiatras vinculados a la escuela de Zúrich y Scott leyó obras de Carl Gustav Jung y se movió en círculos frecuentados por los estudiantes del famoso psiquiatra suizo. El análisis pormenorizado de los contenidos psiquiátricos de Suave es la noche, así como la consideración del contexto y del escenario médico en el que la novela se gestó no habían sido estudiados hasta el momento. Hipótesis Se parte de la hipótesis de que en la elaboración de su novela Suave es la noche, Scott Fitzgerald se vio fuertemente influido por el contexto psiquiátrico de la escuela de Zúrich, con la que entró en contacto tras el ingreso de Zelda. La utilización que Scott Fitzgerald hace de la figura y la obra de Jung resulta decisiva no sólo en la descripción de los contenidos psiquiátricos y psicoanalíticos de la novela, sino también en la construcción de los personajes y en la relación entre ellos...
This thesis provides original research aimed at analysing the novel Tender Is the Night (1934), by American writer Francis Scott Key Fitzgerald, from the perspective of the medical humanities, focusing particularly on the analysis of the relationships between medicine and literature. In Tender Is the Night we find many references to medical and psychoanalytical concepts, related to the ideas of the European psychiatry of the late nineteenth and early twentieth centuries, which makes the analysis of its psychiatric context especially interesting. When Zelda Fitzgerald was admitted to a Swiss clinic in 1930, the couple came into contact with Oscar Forel and Eugen Bleuler, two psychiatrists who had links with the Zurich School of Psychiatry. We also know that Scott read the works of Carl Gustav Jung and moved in circles frequented by students of the famous Swiss psychiatrist. No detailed analysis of the psychiatric content of Tender Is the Night, including the medical context in which the novel was conceived, has as yet been carried out. Hypothesis Our initial hypothesis is that in the writing of his novel Tender Is the Night, Scott Fitzgerald was strongly influenced by the Zurich School of Psychiatry, with which he came into contact after Zelda's admission to the clinic. The use Scott Fitzgerald makes of the figure and work of Jung is crucial, not only in the description of the psychiatric and psychoanalytic elements of the novel, but also in the construction of the characters and their relationships...
Description
Tesis inédita de la Universidad Complutense de Madrid, Facultad de Medicina, Departamento de Psiquiatría, leída el 03-02-2016
Collections