Publication:
Aceleración de aplicaciones web con WebCL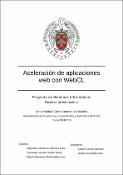 Advisors (or tutors)
Editors
Abstract
El rendimiento de las aplicaciones que se ejecutan en los navegadores web a menudo presentan diferencias significativas de rendimiento dependiendo de la máquina (ordenador, móvil, Tablet…) que lo soporta. Pero en muchos casos se podría solventar realizando un aprovechamiento adecuado de todos los recursos del equipo. Por ello, en este proyecto lo que se busca es que la aplicación web explote al máximo los recursos suministrados de forma efectiva. Al ser el procesador (CPU) el encargado de ejecutar el código de las aplicaciones web y no poder en muchas ocasiones interferir en su rendimiento, en este proyecto explotaremos la potencia de computo de la tarjeta gráfica (GPU) para liberar de trabajo al procesador y poder alcanzar el mejor rendimiento de la aplicación en la máquina en donde se ejecute.
The performance of applications that run on Web browsers often show significant performance differences depending on the machine (computer, mobile, tablet ...) that supports it. But in many cases it could afford making adequate use of all computer resources. Therefore in this project what is sought is that the web application to fully exploit the resources provided effectively. As the processor (CPU) responsible for implementing the code of web applications and often cannot interfere in performance, this project will exploit the computing power of the graphics card (GPU) to release the processor and work to achieve the best performance of the application on the machine where it is executed.
Description
Proyecto de Sistemas Informáticos (Universidad Complutense, Facultad de Informática, curso 2014/2015)
Collections