Publication:
Análisis crítico del discurso político de la violencia de género en España (2011-2016) y Ecuador (2006-2016)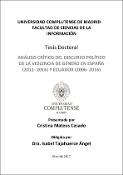 Authors
Advisors (or tutors)
Editors
Publisher
Universidad Complutense de Madrid
Abstract
La tesis concebida bajo la metodología del análisis crítico del discurso toma como principal referente los estudios de Rut Wodak (1997, 1998, 2001) que incorporan la perspectiva de género en los métodos de análisis. Se aborda el discurso crítico de la violencia de género en dos países, Ecuador y España, sin caer en el clásico y extendido error de proponer una comparativa. Se diseña partiendo del proceso de internacionalización del feminismo y de un análisis de la violencia de género desde un pensamiento crítico, transversal, transcultural y poscolonial. Propone un "Corpus teórico en violencia de género" basado en la identificación de un déficit de producción teórica y científica en el estudio de la violencia de género dentro de la Teoría Feminista y de las Ciencias Sociales, que permite profundizar y ampliar con rigor los estudios en violencia de género con efectividad a nivel social. Realiza una reflexión teórica desde las "Condiciones histórico sociales y jurídicas para la emergencia de discursos críticos contra la violencia de género", además del "Desarrollo teórico e intervención integral en violencia de género desde las Ciencias Sociales y las Ciencias de la Información", desde una metodología que presenta estrategias para el estudio cualitativo de la violencia de género. Desarrolla una reflexión dialéctica entre sujetos sociales que permite recoger los avances y amenazas frente a la violencia de género desde el discurso emitido por diferentes sujetos sociales desde espacios hegemónicos de poder político: Asamblea Nacional ecuatoriana, durante la presidencia de Rafael Correa (2006-­‐ 2011) y Congreso de los Diputados español, bajo las legislaturas de Mariano Rajoy (2011-­‐ 2016), frente a los contradiscursos del Movimiento de Mujeres y Feminista de Ecuador y el Movimiento Feminista de España a través de veinte entrevistas en profundidad. Establece así un análisis discursivo y político con sujetos ausentes en buena parte de las investigaciones realizadas hasta el momento, como es el movimiento feminista y los representantes institucionales, a través del uso combinado de herramientas metodológicas como la observación participante, la entrevista en profundidad, los registros audiovisuales, las actas de sesiones, y la propia etnografía. La investigación establece un diálogo con los sujetos pero al mismo tiempo lo hace con la producción de teoría en violencia de género a nivel nacional e internacional. En definitiva, el trabajo logra identificar los discursos legitimadores y deslegitimadores, determinando el contexto de las estrategias políticas de desarticulación del discurso feminista y del discurso contra la violencia de género, que con más o menos éxito se ha ido tejiendo a lo largo de la historia en los discursos hegemónicos y las relaciones de poder dentro de los sistemas patriarcales.
The thesis conceived under the methodology of the critical analysis of the discourse uses as main referent the studies of Rut Wodak (1997, 1998, 2001) which assimilate gender perspective in the analytical method. It presents the critical discourse of gender violence in two countries such as Ecuador and Spain without falling into the classic and widespread mistake of proposing a comparison. It is designed based on the process of internationalization of feminism and the analysis of gender violence from a critical transverse, transcultural and post-­‐colonial viewpoint. It proposes a "Theoretical corpus in gender violence". It is based on the identification of insufficient theoretical and scientific production in the studies of gender violence within feminist theory and social sciences, which allows an increase in the depth and rigour of studies in gender violence across society. It provides a theoretical reflection on the "socio-­‐historical and legal conditions for the emergence of critical discourses against gender violence" as well as "theoretical development and comprehensive intervention in gender violence from Social Science and Information Science", with a methodology that shows strategies for qualitative studies of gender violence. It develops a reasoned reflection among social subjects that enables the gathering of both advances and threats in gender violence from a discourse that comes from different social subjects from high up in the political sphere: The Ecuadorian National Assembly, during the presidency of Rafael Correa (2006-­‐2011) and the lower house in the Spanish Parliament under the governments of Mariano Rajoy (2011-­‐ 2016). All this is contrasted with the counter-­‐discourses of the Feminist Women's Movement in Ecuador and the feminist movement in Spain through twenty interviews. In this way it creates a discursive and political analysis with subjects that have been largely absent from research so far, such as the feminist movement and the institutional agents, through a combined use of methodological tools such as participating observation, in-­‐depth interviewing, audiovisual indicators, the minutes of sessions and the ethnography itself. The study set up a dialogue both with the subjects and also with the production of theory in gender violence at a national and international level. To sum up, the work manages to identify legitimate and non legitimate discourses, determining the context of the political strategies to undermine both feminist discourse and the discourse against gender violence, which with varying degrees of success have increased throughout history in the ruling discourses and power structures within patriarchal systems.
Description
Tesis inédita de la Universidad Complutense de Madrid, Facultad de Ciencias de la Información, leída el 14/07/2017
Collections