Publication:
Evolución del paisaje vegetal durante los últimos 1.680 años BP en el Macizo de Peñalara (Sierra de Guadarrama, Madrid)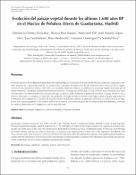 Authors
Gómez González, Clemencia
Ruiz Zapata, María Blanca
Mediavilla López, Rosa María
Domínguez Castro, Fernando
Advisors (or tutors)
Editors
Publisher
Instituto Geológico y Mineria de España
Abstract
El estudio polínico de un depósito higroturboso de origen periglacial localizado en el macizo de Peñalara (Sierra de Guadarrama. Madrid) apoyado en 7 dataciones AMS de 14C, proporciona la primera reconstrucción de alta resolución de la evolución de la vegetación en el área durante los últimos 1689 años. Los resultados obtenidos reflejan la existencia de un paisaje vegetal dominado por el estrato herbáceo, constituido fundamentalmente por Poaceae y Plantago lanceolata tipo. La masa forestal está constituida por Pinus sylvestris tipo y en menor proporción Pinus pinaster tipo y Quercus, junto a presencias puntuales de Betula. El grupo arbustivo (Erica arborea, Rosaceae, cf. Juniperus y Cistaceae), está presente a lo largo de toda la secuencia sin llegar a tener un papel importante en la estructura de la vegetación. El análisis de los microfósiles no polínicos (MNPs) ha permitido relacionar las variaciones de la vegetación con la presión pastoral y los cambios tróficos en la turbera. Los valores del pH y de la conductividad del sedimento, constatan los cambios detectados en la vegetación y en los usos del suelo. [ABSTRACT] [Landscape evolution during the last 1680 years BP in the Peñalara Massif, Guadarrama Range, Madrid] A study of peat bog from Peñalara (Guadarrama Range, Madrid) supported by 7 14C AMS dates provides the first high-resolution the vegetacion evolution during the last 1680 years in the area. The landscape is dominated by herbaceous taxa, constituted mainly by Poaceae and Plantago lanceolata. Shrubs such as Erica arborea, Rosaceae, cf. Juniperus and Cistaceae have certain role in the vegetation. Woodlands with Pinus sylvestris type, also P. pinaster, Quercus and Betula are also noticeable throughout the sequence. Non-pollen palynomorphs are used to infer the importance of erosive processes and changes in peat bog trophic condition. The information provided by pH and sediment conductivity serves to assess vegetation and land uses changes.
Collections