Publication:
Oraciones por la salvación del alma: el obituario en piedra del Monasterio de Sant Pau del Camp en Barcelona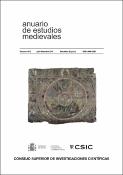 Authors
Advisors (or tutors)
Editors
Abstract
El presente artículo estudia la función pretendida para un grupo de inscripciones conservadas en el monasterio de Sant Pau del Camp, en Barcelona. Se analiza el objetivo con el que las mandaron ejecutar sus autores morales, al tiempo que pretende descubrir quiénes fueron éstos. Se trata de responder a las preguntas de ¿quién? y ¿para qué? Este conjunto de inscripciones resulta singular en el conjunto del panorama epigráfico conocido del Medievo hispano; tales epígrafes no pueden ser asimilados sin más a los llamados epitaphia necrologica, dado que los existentes en Sant Pau del Camp realizan especial incidencia en la fundación de aniversarios que garantizan, o al menos así lo pretenden, la oración perpetua por el alma del difunto, hecho que no suele ser habitual en otras zonas peninsulares y que ha permitido conceptuar a algunas de ellas como fundationes anniversarii. Sí se localizan inscripciones similares en otros puntos de Cataluña y, especialmente, en la mitad sur de Francia. Se analiza también la relación de estos epígrafes con otros documentos escritos: los obituarios y los testamentos.
This paper examines some inscriptions preserved in the monastery of Sant Pau del Camp, in Barcelona, in order to determine their functionality and find out who were their moral authors. We try to answer the questions of who and why. This collection of epigraphs is peculiar in Spanish medieval epigraphy; it cannot be assimilated exactly to epitaphia necrologica, because those in Sant Pau del Camp specially emphasize the foundation of anniversaries, that guarantee perpetual prayer for the deceased's soul. Consequently, we have conceptualized some of these inscriptions as fundationes of anniversary. This tradition is not habitual in other areas of the Iberian Peninsula, except Catalonia. Also, we can find similar inscriptions in the south of France. We also analyze the relationship of these epigraphs with obituaries and testamentary dispositions.
Collections