Publication:
Cortes compensados para la deformación principal alpina en el borde sur oriental del Sistema Central español (Zona de Tamajón, Guadalajara)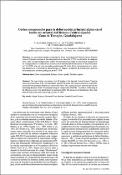 Advisors (or tutors)
Editors
Publisher
Sociedad Geológica de España
Abstract
Las estructuras alpinas principales del borde sur oriental del Sistema Central Español (zona de Tamajón) resultan ser dos cabalgamientos de dirección N70oE, con dirección de transporte hacia el SE, con retrocabalgamientos y fallas de transferencia asociadas. La dirección de transporte de los cabalgamientos es coherente con la dirección de acortamiento horizontal de la "etapa Guadarrama" (N1500E), a la cual están asociados genéticamente. El efecto de los cabalgamientos en la cobertera mesozoica es el desarrollo de diferentes tipos de pliegues asimétricos. El acortamiento, deducido de la restauración de cortes geológicos, es de 17-19%
The main Alpine structures in the SE border of the Spanish Central System (Tamajón zone), have been found to be two thrust faults with N700E trend, and transport direction towardsSE, associated with secondary backthrusts and transfer faults. The tectonic transport direction fits well the shortening direction of the "Guadarrama" stage of compression (N1500E). The effects of thrusting in the Mesozoic cover is the development of assimetric folds. The ammount of shortening in this zone, deduced from cross-section balancing, is about 17-19%.
Collections