Publication:
Aprendizaje inteligente y pensamiento espacial en Geografía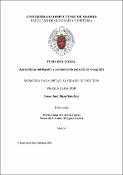 Files
Authors
Advisors (or tutors)
Editors
Publisher
Universidad Complutense de Madrid
Abstract
La incorporación de las Tecnologías de la Información y la Comunicación (TIC) a las aulas de educación secundaria ha propiciado, para el caso concreto de las materias de contenidos geográficos, la utilización en ellas de las tecnologías propias de nuestro ámbito de estudio, las Tecnologías de la Información Geográfica (TIG). Esta tesis titulada "Aprendizaje inteligente y pensamiento espacial en Geografía" ahonda en la utilidad de las Tecnologías para el Aprendizaje Geográfico focalizadas en los Sistemas de Información Geográfica en la nube (SIG Web). Para ello, ha sido necesario un análisis de las necesidades en la educación secundaria, que se ha realizado desde cuatro puntos de vista diferentes: en primer lugar, desde el curriculum vigente; en segundo lugar, a través del análisis del contexto de la enseñanza aprendizaje de la geografía; en tercer lugar, desde uno de los exponentes tecnológicos aplicados a la enseñanza de la geografía, los SIG en la nube; y por último, desde la experiencia docente propia de veinte años de docencia en Educación Secundaria y Bachillerato...
The integration of Information and Communication Technologies (ICT) in secondary education classrooms has led, in the specific case of geographic content subjects, to the use of technologies specific to our field of study, Geographic Information Technologies (GeoICT). This thesis entitled "Intelligent learning and spatial thinking in Geography" delves into the usefulness of Geographic Learning Technologies focused on Geographic Information Systems in the cloud (Web GIS). For this, it has been necessary to analyze the needs in secondary education. These have been done from four different points of view: firstly, from the current curriculum; secondly, through the analysis of the context of the teaching-learning of geography; thirdly, from one of the technological exponents applied to the teaching of geography, GIS in the cloud; and finally, from the teaching experience of twenty years of teaching in Secondary Education and Baccalaureate...
Description
Tesis inédita de la Universidad Complutense de Madrid, Facultad de Geografía e Historia, leída el 18-11-2021
Collections