Publication:
Elastómeros iónicos con memoria de forma: estructura, dinámica y propiedades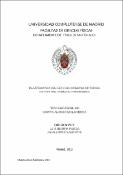 Files
Authors
Advisors (or tutors)
Editors
Publisher
Universidad Complutense de Madrid
Abstract
El objetivo principal de esta tesis doctoral es la obtención de nuevos materiales elastoméricos que presentan un efecto de memoria de forma estimulado térmicamente. Para ello, se han utilizado redes mixtas que combinan en una misma matriz de caucho interacciones iónicas y entrecruzamientos covalentes. Las interacciones iónicas serán las encargadas de fijar la forma temporal gracias a su carácter reversible con la temperatura, mientras que los enlaces covalentes serán los responsables de la recuperación de la forma original. Así pues, por primera vez se utilizará una transición iónica como la transición térmica reversible que activa el efecto de memoria de forma en elastómeros, preservando la naturaleza elástica de estos materiales tanto en la forma original como en la temporal. Inicialmente, la complejidad estructural y dinámica de estos materiales inteligentes hace necesario el estudio en profundidad de las redes por separado, es decir, por una parte la matriz entrecruzada de manera covalente y por otra, con interacciones iónicas. Por ello, en esta tesis doctoral se exponen en primer lugar estos materiales de manera individual, para luego estudiar la combinación de ambos sistemas de vulcanización y finalizar con la investigación de las propiedades de memoria de forma de las muestras. Por último, se comprobó de manera adicional que estos materiales presentan un efecto de memoria de temperatura, que permite modular el efecto de memoria de forma a diferentes temperaturas sin modificar químicamente estos elastómeros. Por tanto, los resultados obtenidos confirman la versatilidad de estos cauchos como materiales inteligentes, teniendo en cuenta que además su preparación es muy sencilla y libre de disolventes, muestran propiedades mecánicas excelentes y son materiales potencialmente reciclables. ABSTRACT. The main purpose in this PhD is the development of new elastomeric materials that present thermally stimulated shape memory effect. Mixed networks have been used combining ionic interactions and covalent cross-links in a same rubber matrix. Ionic interactions will be responsible of the temporal fixation due to their thermo-reversible behaviour, whereas covalent bonds will recover the original shape. For the first time, an ionic transition will be the reversible thermal transition that activates the shape memory effect in elastomers, preserving the elastic nature of these materials both in the original and the temporal shape. Initially, the complex structure and dynamics of these smart materials makes necessary a deep study of the individual networks, i.e., on the one hand, the matrix with covalent cross-links and on the other hand, with ionic interactions. For this reason, firstly the individual materials will be exposed, later the combination of both vulcanization systems and finally the investigation of shape memory properties of the previous samples. Additionally, a temperature memory effect was demonstrated in these materials, allowing the modulation of the shape memory effect at different temperatures without modifying chemically these elastomers. Therefore, the obtained results confirm the versatility of these rubbers as smart materials with a very easy and solvent-free preparation, excellent mechanical properties and potential recycling.
Description
Tesis inédita de la Universidad Complutense de Madrid, Facultad de Ciencias Físicas, Departamento de Física de Materiales, leída el 20/09/2013
Collections