Publication:
International Seminar UCM – CertificaRSE: Adapting Tax Rules To Global Challenges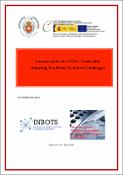 Advisors (or tutors)
Editors
Abstract
Two main challenges were identified in this Seminar and several aspects about them addressed: 1.-INCENTIVES FOR SUSTAINABILITY AND THEIR CONTROL: Some philosophical reflections on sustainable taxation; Tax incentives to promote solar energy self-consumption; Treaty anti-abuse measures as a tool for securing sustainable development in a globalized economic environment; Global sustainability and financial activity: control of tax incentives to promote private participation. 2.-THE TAX TREATMENT OF DIGITAL ECONOMY AND ROBOTICS: Tax immunity: challenges and risks; The design of a robot tax; A new taxation for a new reality; Approach to taxation of digital services and robotics in Europe.
En este Seminario se identificaron dos retos fundamentales y se trataron varios aspectos de los mismos. 1.-Incentivos para la sostenibilidad y su control: Algunas reflexiones filosóficas sobre fiscalidad sostenible; Incentivos fiscales para promover el auto-consumo de energía solar; Medidas convencionales anti-abuso como herramienta para asegurar el desarrollo sostenible en un entorno económico globalizado; Sostenibilidad global y actividad financiera: control de incentivos fiscales para promover la participación privada. 2.-El tratamiento fiscal de la economía digital y la robótica: Inmunidad fiscal: retos y riesgos; El diseño de un impuesto sobre robots; Una nueva tributación para una nueva realidad. Aproximación a la imposición de los servicios digitales y la robótica en Europa.