Publication:
Patrones de glicosilación y reconocimiento por lectinas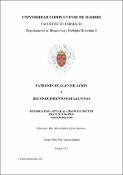 Files
Authors
Advisors (or tutors)
Editors
Publisher
Universidad Complutense de Madrid
Abstract
La mayoría de los procesos de señalización biológica que tienen lugar en los organismos vivos involucran cuatro categorías de biomoléculas: ácidos nucleicos, proteínas, carbohidratos y/o lípidos. Los ácidos nucleicos y las proteínas, cuya secuencia y estructura fue objeto de estudio exhaustivo durante el siglo pasado, fueron identificados como biomoléculas responsables de la transmisión de información genética y como moléculas efectoras, respectivamente. No obstante, no parecía posible explicar integralmente procesos dinámicos a nivel intra- e intercelular, como por ejemplo la adhesión celular, la infección microbiana o la quimiotaxis de linfocitos, en un contexto de sólo dos dimensiones, i.e. ácidos nucleicos y proteínas. La existencia de un sistema encriptado adicional parecía esencial para cumplir estas funciones y los carbohidratos, ubicuos y diversos, se revelaron como biomoléculas idóneas para ejercer este papel. La extraordinaria capacidad de biocodificación de la que disponen deriva de su versatilidad estructural. Para una determinada secuencia de azúcares existen multitud de posibles isoformas: basta con variar la configuración anomérica del enlace glicosídico (α- o β-), la forma de cada anillo, la posición de los enlaces, la presencia o no de sustituciones específicas (fosforilación, sulfatación, etc.) y/o la disposición lineal o ramificada de las unidades que componen dicha secuencia. Es evidente que las glicoformas constituyen un sistema muy flexible y además editable de manera dinámica, que goza al mismo tiempo de cierta independencia del genoma. Una colección de enzimas se encarga de su modificación, confiriendo a las células la capacidad de adaptarse constantemente a su entorno. A pesar de este proceso de adaptación, existen ciertos patrones de glicosilación, que constituyen una "huella dactilar", identificativa de su portador...
The space on the cell surface is fairly limited and has to harbour a multitude of signals, making high-density coding compulsory. Satisfying this requirement, the glycocalyx, a fuzz-like carbohydrate coat, is present on the external surface of cell membranes of both eukaryotes and prokaryotes, as well as of cell-derived vesicles. In addition to offering chemical resistance and backbone support, their extended presence on cellular surfaces plays an important functional role, frequently mediating recognition processes. Lectins, a ubiquitous family of effector proteins, are capable of reversibly binding carbohydrate sequences with extraordinary selectivity, thus acting as translators of sugar-encoded signals. Their existence and action as fine-tuned binders argues for their probable co-evolution with saccharides in the frame of the high organisational diversity of the latter. Through recognition of sugar structures by endogenous lectins, the discrimination between selfand non-self-glycosylation patterns lies behind the innate immunity response. In this perspective, the eventual presentation of aberrant glycosylation profiles by host cells at both structural and expression levels is commonly associated to pathogenesis, cancer being the most relevant example. Even though these altered self-patterns do not typically elicit immune responses, they constitute attractive targets for diagnosis and therapeutic intervention. During the last decade, the findings supporting that extracellular vesicles (EV) could transfer molecular patterns, metabolites or effectors in a horizontal manner, revolutionised the biomarker field. These membrane vesicles are assembled in an orchestrated process, then liberated by almost all cells, including tumour cells, and are thought to share glycosylation profiles with them. Although the use of lectins as tools for glycotypification of tissues in physiology, or of bacterial strains in microbiology, was long established, lectin-based high-scale analytical methodologies for classification of EV are still missing...
Description
Tesis inédita de la Universidad Complutense de Madrid, Facultad de Farmacia, Departamento de Bioquímica y Biología Molecular II, leída el 05-06-2017
Collections