Publication:
La crisis nuclear iraní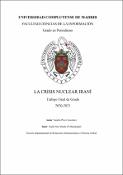 Authors
Advisors (or tutors)
Editors
Abstract
El documento busca esclarecer los puntos claves que desencadenaron la crisis nuclear iraní desde el momento en el que estalló el conflicto internacional y, al mismo tiempo, ofrecer una visión amplia y detallada de lo que significa el Plan de Acción Integral Conjunto entre Irán y el P5+1, desvelando el por qué fue tan histórico para la comunidad internacional en su totalidad. Asimismo, se pretende, por un lado, mostrar la relevancia y trascendencia que este acuerdo supone a nivel internacional y, por otro lado, dar una respuesta clara y sencilla a cómo es la situación actual del acuerdo y la vigente relación entre la comunidad internacional, enfatizando el papel protagonista de EE.UU e Irán en la crisis.
The document seeks to clarify the key points that triggered the Iranian nuclear crisis from the moment the international conflict erupted and, at the same time, to provide a comprehensive and detailed view of what the Joint Comprehensive Plan of Action between Iran and the P5+1 means, revealing why it was so historic for the international community as a whole. It is also intended, on the one hand, to show the relevance and transcendence that this agreement represents at the international level and, on the other hand, to give a clear and simple answer to the current situation of the agreement and the current relationship between the international community, emphasizing the leading role of the US and Iran in the crisis.