Publication:
Marcadores inflamatorios en los trastornos de la conducta alimentaria en relación a los antecedentes traumáticos y otros parámetros clínicos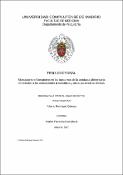 Files
Authors
Advisors (or tutors)
Editors
Publisher
Universidad Complutense de Madrid
Abstract
Los trastornos de la conducta alimentaria (TCA) son un grupo de enfermedades mentales de etiología por el momento desconocida, aunque se presupone, como en la mayoría de los trastornos psiquiátricos, la participación de múltiples factores biológicos y psicosociales. Se caracterizan por una alteración persistente en los hábitos alimentarios que resulta en una afectación en la salud física o en el funcionamiento psicosocial (A.P.A. DSM-V, 2013). El inicio tiene lugar habitualmente durante la adolescencia, y se presenta con mayor frecuencia en mujeres. Los diferentes estudios realizados hasta la fecha han identificado una serie de alteraciones en los mecanismos neurales que sustentarían al síndrome clínico descrito en los pacientes con TCA. Sin embargo, las relaciones causales entre cambios cerebrales y síndrome clínico no están claras, porque es difícil diferenciar las alteraciones primarias de los fenómenos secundarios, teniendo en cuenta que la malnutrición asociada puede producir cambios en la función neuroinmunoendocrina y que algunas de las disfunciones encontradas pudieran ser propias de la disregulación del afecto o del control de impulsos, que también aparecen alteradas en estos pacientes. Los trastornos de la conducta alimentaria tienen la tasa de mortalidad más alta de entre todos los trastornos psiquiátricos. Al ser enfermedades que pueden adoptar un curso crónico, también tienen implicaciones económicas en lo referente a los costes por pérdida de calidad de vida, los costes por pérdidas de producción, los costes de capital humano o los costes sanitarios o de rehabilitación. Dado que no existen tratamientos específicos porque no se conoce completamente la etiopatogenia del trastorno, toda investigación encaminada a mejorar la comprensión y entendimiento de estos trastornos está justificada...
Eating disorders (ED) are a group of mental diseases of unknown etiology, although it is assumed, as in most psychiatric disorders, the influence of multiple biological and psychosocial factors. They are characterized by a persistent alteration in eating habits resulting in impairment in physical health or psychosocial functioning (APA DSM-V, 2013). Onset usually occurs during adolescence, and occurs most often in women. The various studies to date have identified a number of alterations in the neural mechanisms that would support the clinical syndrome described in patients with ED. However, the causal relationships between brain changes and the clinical syndrome remains unclear, because it is difficult to differentiate the primary alterations of side events, taking into account that malnutrition can cause changes in the neuroinmunoendocrine function and some of the dysfunctions could be specific to the affective or impulse control dysregulation, which also appear altered in these patients. The eating disorders have the highest mortality rate among all psychiatric disorders. They can take a chronic course; have economic implications regarding costs for loss of quality of life, costs for production losses, costs of capital or human health or rehabilitation costs. Since there are no specific treatments and the pathogenesis of the disorder is not clearly understood, any research aimed at improving the understanding of these disorders is justified. On the one hand, it is known that people who have suffered a childhood trauma are most likely to have an eating disorder in adulthood (Oppenheimer, 1985; Rayworth, 2004). Moreover, the association between the stress response, inflammatory factors and anorexia nervosa has been proposed in several studies. Stress triggers catecholamine production, leading to proinflammatory mediators such as cytokines or interleukins (Lucas, 2006)...
Description
Tesis inédita de la Universidad Complutense de Madrid, Facultad de Medicina, Departamento de Psiquiatría, leída el 02-02-2016
Collections